Friday, Oct. 30 was the last day to vote ahead of Election Day on Nov. 3, and state officials say voter turnout is drastically higher than in the 2016 presidential election. 
Now, voters will need to wait until Tuesday to cast their ballots in person, and polls will be open from 7 a.m. to 7 p.m. on Election Day.  
If voters still have an absentee ballot to return, they have until 7 p.m. Tuesday, when the elections office must receive voted absentee ballots.  
Voters can drop their ballots in one of two drop boxes, located outside the Spout Springs Library in Flowery Branch and the Hall County Government Center in Gainesville. They can also bring them to the elections office inside the government center. 
They can also mail the absentee ballot to the elections office, which must receive it by the time polls close Tuesday for it to be counted. 
Returning an absentee ballot 
Ballots must be received by 7 p.m. Tuesday, Nov. 3 Mail to: Hall County Elections 

PO Box 1435 
Gainesville, GA 30503 
Turn in at an early voting location during early voting times 
Put in one of two drop boxes:

Outside Spout Springs Library, 6488 Spout Springs Road, Flowery Branch 

Outside the Hall County Government Center, 2875 Browns Bridge Road, Gainesville 
Polls are open from 7 a.m. to 7 p.m. Tuesday, Nov. 3 

Find your polling place on the Georgia Secretary of State's Office My Voter Page or call the county elections office at 770-531-6945 

Voters must go to their assigned polling place on Election Day 
Voters who have requested an absentee ballot but decide to vote in-person instead can have their absentee ballot canceled by a poll worker when they arrive at their voting location. 

As of 5 p.m. Friday, 2.6 million people had voted early in Georgia for the Nov. 3 election, a 27% increase over 2016 in-person, early voting turnout, according to the Georgia Secretary of State's Office. Almost 1.2 million people had voted with an absentee ballot, an almost 600% increase over 2016.  
Turnout has also been high in Hall, with 49,116 people having voted early by the end of the day Thursday, according to Elections Director Lori Wurtz. For absentee voting, Hall had received and accepted 19,530 ballots Friday, she said. The county received 28,361 absentee ballot requests and canceled about 5,000 absentee ballots when people decided to vote in-person instead, she said. That leaves about 3,800 absentee ballot requests outstanding.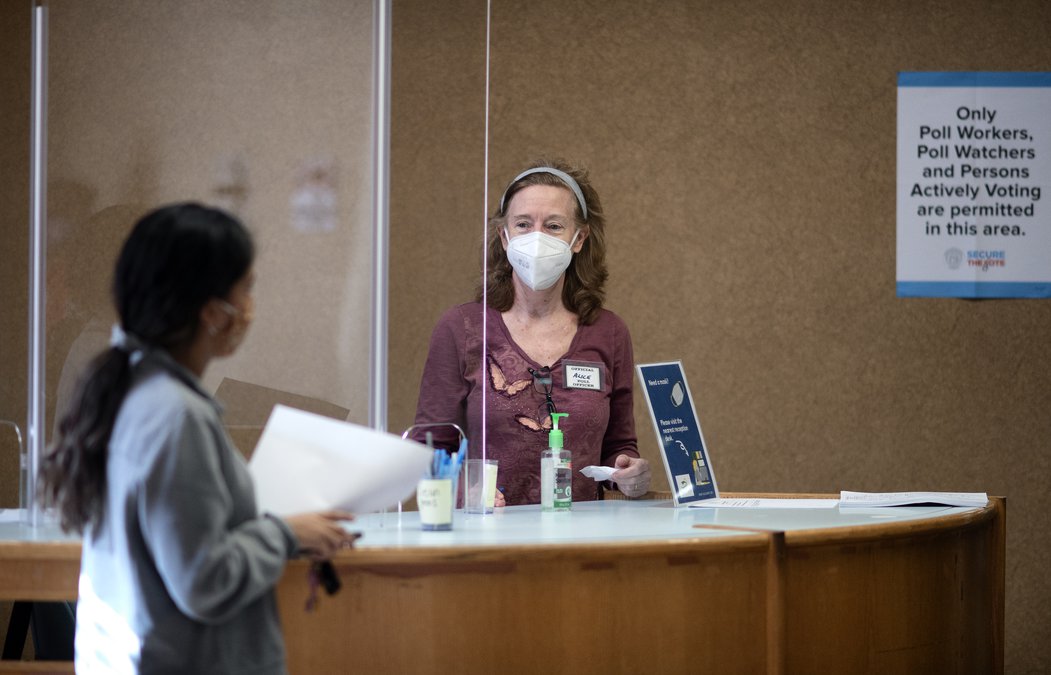 The county has 128,228 registered voters, Wurtz said, so between early voting and absentee voting, the county had already surpassed 50% turnout as Friday. 

Heavy turnout is expected to continue on Election Day, Wurtz said.  
"I don't think we'll see less than 75% total of voters voting in Hall County, and it wouldn't surprise me if it even went quite a bit higher than that," Wurtz said.  
The county had 78% turnout in 2016 and 58% turnout in 2018, The Times has previously reported. 
While Hall County has been processing absentee ballots and preparing them for tabulation, the ballots will not be counted and results will not be known until after polls close Tuesday. Wurtz said Friday it would likely be at least 9 p.m. until results became available Tuesday evening. 
The county will have about 600 poll workers Tuesday, which Wurtz said should keep polling places well-staffed. While many longtime poll workers opted to not work this year due to concerns about COVID-19, Wurtz said some stayed on and have helped train and get to know the new workers. 
"They have really made the process so easy. My hat is off to them," she said. "They have taken in these new poll workers and have made themselves available to answer questions and just kind of paired up with the new ones. That has been really heartwarming for me to see." 
Voters will see several changes at polls to reduce the spread of COVID-19. Poll workers will wear masks Tuesday, and voters are encouraged to wear them. Sneeze guards will be installed where voters check in with poll workers, and voters are asked to socially distance. Poll workers will also sanitize machines regularly.