Carnivores will find plenty to drool over at Smokin' Mike's Meats — hickory-smoked pulled pork, barbecue chicken, brisket and baby back ribs — but "half-assed barbecue" isn't on the menu.
It is, however, part of a mantra.
"Our logo says, 'No half-ass barbecue;' we do it the right way," owner Michael Mitchell said. "Everything gets a good 20 — or more — hours of smoke. All the pulled pork, all the briskets, all the big cuts. And it's real smoke, not electric smoke, because there is a big difference. It's all small-batch and all control-freaked."
Opened in May 2021, the hole-in-the-wall carryout restaurant sits roughly a mile from the Dawson County line in northwest Hall. 
Its owner, a three-year Georgia transplant, hails from Monterey, California, where he earned his chops working as a butcher in an upscale Italian meat market and deli.
His background, which he calls a bit of a grab bag, also covers the restaurant industry and a stint as a culinary arts instructor, though he holds no formal degree in the subject matter.
"I really just learned on the job," Mitchell said. "Growing up, I did a lot of cooking at home at a young age. I used to watch Martin Yan and Paul Prudhomme and just cook it up at home. I've always just kind of stuck with it. It's gotten to be second nature."
Accustomed to the Santa Maria-style barbecue of the West Coast, which is commonly cooked over fire in an open pit grill to yield staples like tri-tip, top sirloin and ribeye, Mitchell said his palate noticed a disparity in Georgia's barbecue offerings, spurring him to bring a taste of home to his new digs.
"I think a lot of people are being deprived of good barbecue," Mitchell said. "If you're real comfortable with heat and smoke, you can change it up. (It's) not that difficult."

Mitchell's Brunswick stew is one example, with many a customer connecting its chilis and spice with flavors of the West.
While his dishes carry some California influence, Mitchell aims to craft a flavor that's all his own.
"You'll see a lot of cumin and coriander finding their way into my dishes," he said. "Some of it's been molded by the folks that come in here and eat. When I first came out here, my coleslaw was having carrots and red cabbage in it, and folks said, 'We just like cabbage or dressing.' I said, 'All right, no more carrots. Just plain cabbage, you got it.'"
From Smokin' Mike's, customers can nosh on just the meat, a sandwich or a plate with two sides, choosing between coleslaw, baked beans, mac and cheese, twice-baked potato casserole, potato salad and Brunswick stew.
"We like to keep it simple. We like to overload you on whatever you're getting, too — we don't ever want anybody thinking they got short changed around here, so we load 'em up. I take pleasure in being able to put out a really big portion for a good price. That's our format here. We don't cut any corners, and people respond to that."
As for dessert, that's subject to change daily, though banana pudding and some type of cobbler are recurring guests on the specials board.
Pulled pork may be Smokin' Mike's No. 1 bestseller, Mitchell said, but he's found customers don't mind going out of their way for a helping of his brisket, either.
"A lot of folks say they just can't get good brisket around — at least they say they find it here," he said. "Everything here has got its following. If it didn't, it'd be replaced. Everything here finds its way out the door."
While Smokin' Mike's does offer house-made sauce for its meats, it's served strictly on the side, upholding Mitchell's conviction that good barbecue is all in the smoke.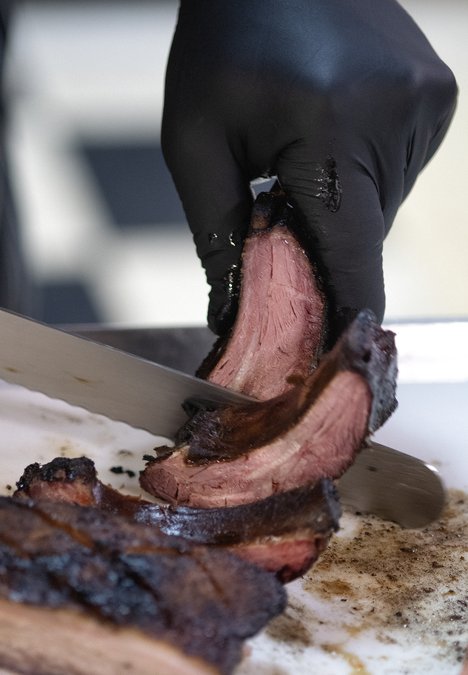 According to Mitchell, all of Smokin' Mike's meats are sourced locally and butchered by him. The hickory, likewise, is sourced close to home — from the restaurant's own neighborhood, actually.

"I think that's everything when it comes to our cooking — the right wood and the right amount of time on it," Mitchell said. "Plus, starting with good meat. I have that butchery background, so being able to fabricate my own cuts gives us a lot more opportunity to offer things at a better price."
Sharing the spotlight with tried-and-true staples are his weekly specials.
Wednesdays tend to be steak nights, while the shrimp and grits special seems to fall on Thursdays of late. Friday nights are usually a toss-up between prime rib and low country boil.
Pork roulade, beef stew and smothered pork chops are also known to make an appearance in the lineup from time to time.
Smokin' Mike's doesn't have a website, or a particularly strong phone signal, but the restaurant is active on Facebook, where a menu is posted daily and updated two to three times as the day rolls on, Mitchell said, "just to give folks fair warning, like, 'Hey, we just ran out of brisket for the day.'"
For menu information, specials and updates, visit
facebook.com/smokinmikesmeats
.