Bryan Gray's yell of triumph nearly knocked him out of his chair.  

Gray, assistant principal at Hall County's alternative school The Foundry, discovered in a Zoom call last week that the school had been named the Georgia Association for Alternative Education's school of the year for 2020-2021, and he was not shy about voicing his excitement. 
"It was a loud yell in my office over the Zoom call, and then everybody came to check to make sure I was OK," he said. "It was a very exciting, very proud moment." 
The Foundry was selected from a group of about 140 other alternative schools as the top program in Georgia, and Gray, The Foundry principal Mitch Murphy and Hall County Superintendent Will Schofield all expressed plenty of excitement and pride over the recognition. 
"The team members at The Foundry take their mission of providing hope and rigor to students very seriously and it shows up daily in their commitment to building positive relationships," Schofield said. "When students know that adults care for them and support them – when they realize that the teachers and the entire team believe in their capabilities and their potential – amazing things can happen." 

Murphy said The Foundry sets itself apart with the level of care the alternative school shows for each individual student.  
The school caters to a wide range of students, from those struggling to pick up English as a second language, to special education students, to honors students who "just made a bad choice." But Murphy said he and other members of The Foundry's staff seek to provide each student with an individualized experience that best fits their needs.  
"It's as focused on the child and what they need outside of academics as it is on academics," Murphy said. "It's more of looking at the whole picture of the kid and what they need. Yes, it's very structured, but the focus is not on punishment. It focuses on taking care of the child." 
Every child who enters The Foundry's student body begins with an hour-long induction interview attended by the student and their parents or guardian. During the meeting, school staff try to get to know the student and identify their specific needs.  

"We just discuss to learn about the student, find out what he or she wants," Gray said. "What has worked? What has not worked? Try to individualize as much as possible." 
Gray said The Foundry' educators aim to be as flexible as possible, accommodating the needs of each student as best as they can. He said the comprehensive induction process was one aspect of the school that set it apart from the other programs in the state.  
He added that the school's daily emotional learning training was another important component in earning The Foundry its honors. Every morning, students break into small groups and spend about 25 minutes having discussions geared toward improving social skills. 
"What we do is we work on everything from teaching confidence to empathy to how you treat a lady, how you treat a man," Gray said. "Body language, emotional understanding, a wide range of social, emotional learning categories that I think are so evident that even us as adults when we go home at night and look in the mirror, things that we struggle with. And we go and magnify that for the students. And that's every day." 
Outside of that, Gray said The Foundry is roughly similar to other Hall County schools, though it does require uniforms.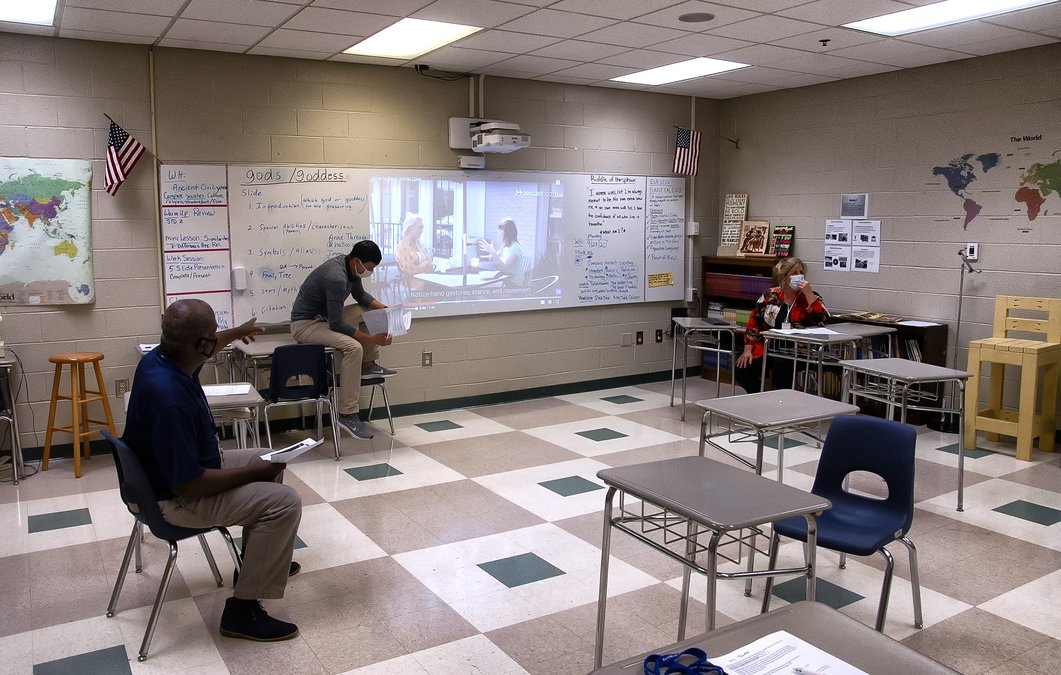 Students through ninth grade are taught with a teacher in a traditional classroom setting, while those in grades 10-12 are taught through a learning platform called Edgenuity. Gray said the varying level of classes taken by "upper level" students makes it difficult to have individual educators teach each subject, though every classroom attended by older students is supervised by a certified teacher who is prepared to provide help to whomever needs it, according to Gray. 

Gray said the school's recent recognition helps validate the teachers who have been tasked with instructing "the most challenging students in the district." 
"They're paid no differently," he said. "They're just like any other teacher, but they do it here. They come in every day because they want to work with students that need them. They want to work for the social aspect. For them to be recognized, it's truly fantastic." 
Murphy added that while The Foundry's employees are not working just for recognition or awards, the school's most recent honor will still provide plenty of motivation to continue working hard to provide quality education for alternative students.  
According to Murphy, the general feeling among The Foundry's teachers after they discovered the school had won was "What do we have to do to win it again?" 
"It does drive people to push themselves, and that's exactly what I hear from those folks," Murphy said. "They knew they were doing a good job. They knew they were working hard. But that little bit sometimes pushes you to make you want to do even better."