The sticky air, almost suffocating humidity of Georgia's summers can take its toll on anyone.

But for someone like Jim Knight, 67, a Hall County resident and Vietnam-era veteran with emphysema and other breathing problems, the sweltering heat of recent days can be a severe health hazard.
"If it's 100 degrees in here, I'd be choking on the air," he said on a recent afternoon inside his trailer home.
But thanks to a weatherization program operated by Ninth District Opportunity, Inc., a nonprofit serving residents of Northeast Georgia, Knight now has a heating and cooling system installed that will make life at home more comfortable and safe.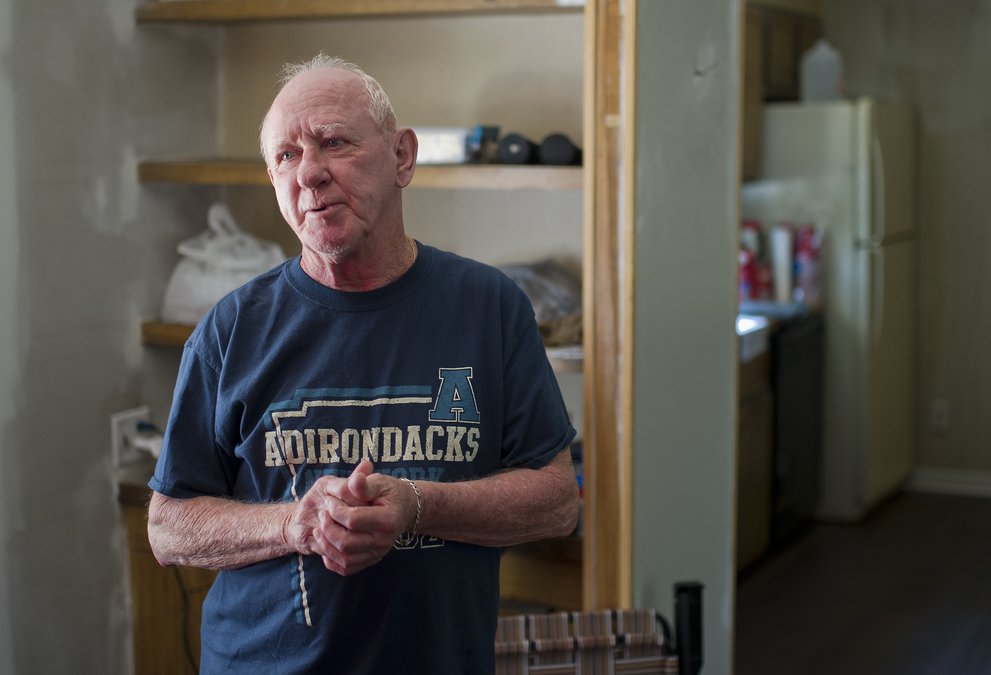 "They're as professional as you can get," Knight said. "They do great work."

Knight moved back to Hall County last year after living for a time in Statesboro.
"I got to missing the lakes and the mountains," he said.
He purchased a trailer and renovated it with new flooring, dry wall, cabinetry and other fixtures. But, living off a veteran's pension, he ran out of money to install a proper heating and cooling system.
And without such a system, Knight could not get his home insured.
So he applied for Ninth District's weatherization program, which is funded through a federal agency, last December and waited for his turn in the queue.

Danny Penland, weatherization director for Ninth District, said applications are prioritized based on a number of factors: age of applicant, whether they have a disability or health issue, income, "degree of urgency," and how long an applicant has waited for assistance, among other criteria.
The need across the 13 counties that the weatherization program serves is substantial.
Penland and Tommy Allen, project coordinator for Ninth District's weatherization program, are able to complete weatherization projects on about five or six homes each month.
But some projects have to be deferred due to health and safety issues related to homes, such as open water leaks or the presence of raw sewage.
"It makes a house ineligible for weatherization," Penland said, adding that "we try not to defer."
However, another funding source that supports minor home repairs, such as fixing roofs and plumbing issues, can get some applicants qualified and eligible for weatherization.
"It's a Godsend to have that," Penland said.
Penland's first inclination was that Knight just needed some minor home repairs. But after an initial assessment, which is performed on all properties to determine needs before any work begins, Penland realized Knight was a perfect candidate for weatherization.
Within two weeks of that assessment on Knight's home, Penland and Allen were finishing their work with what's called a "blower door test," a contraption that frames the front door and depressurizes the home to determine how much air is leaking in and out.
It's a critical final test because the work of weatherization, from installing heating and cooling systems to caulking floors and windows to ensure a proper seal, can have unintended consequences, such as not allowing proper ventilation, which could lead to mold.
"Each thing we do can affect something else," Allen said.
Penland added that there is no "cookie cutter" approach to weatherization, and each home has distinct needs.
Fortunately, Knight's home passed the blower door test with flying colors.
The weatherization project also serves, in a corollary way, as financial assistance by making a home more energy efficient.
Knight's home was also equipped with LED light bulbs, for instance, as well as insulation for a hot water tank.
"They do it right," Knight said. "They've kept me informed all the way through it."