There is good news and bad news when it comes to the economy.
The good news is that economic growth in Gainesville and Hall County continued its robust pace in 2018 with 14 new and expanding firms adding nearly 1,200 new jobs and $310 million in new capital investment locally, according to a new report from the Greater Hall Chamber of Commerce. This marks an 80 percent increase in capital investment over the previous year.
The bad news is that national forecasts for 2019 predict a slowing of economic growth.
Just how much that comedown hits Northeast Georgia cannot be foretold, but some indicators are starting to show.
The Georgia Department of Labor reports that Gainesville-Hall County added 3,794 jobs from October 2017 to October 2018, a 3.9 percent increase year-over-year. 
The local area's jobless rate of 2.6 percent in November remains the lowest in Georgia.
Many of these jobs and business investments will come to full fruition in 2019 and beyond, the chamber reports, such as moves by Fox Factory and Auto Metal Direct.
Both Fox and Auto Metal Direct are constructing new facilities in Hall County for a combined 500,000 square feet of space that will serve as operations and headquarters for the businesses. 
Since 2013, the chamber's economic development program has assisted more than 150 new and expanding businesses that have announced 6,350 jobs and $1.3 billion in new capital investment.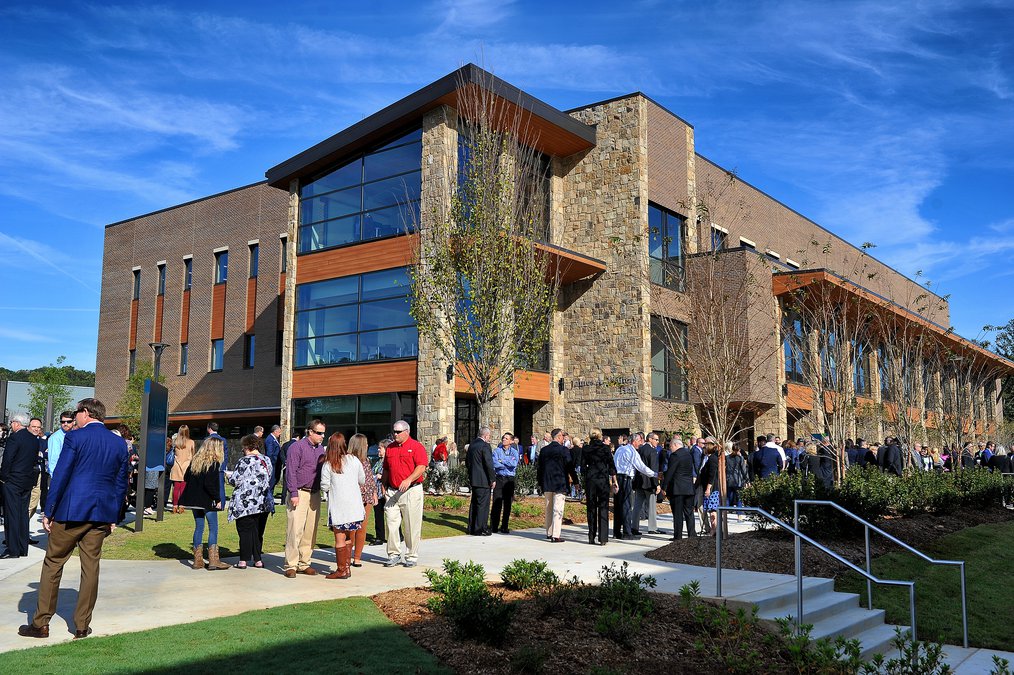 This year brought the unveiling of the new Lanier Technical College campus on Ga. 365, as well as the announcement that an inland terminal would be constructed at the Gateway Industrial Centre to serve the Port of Savannah's reach into Northeast Georgia.
The chamber report also notes how health care providers continue to be a huge economic driver in Gainesville-Hall County, with 373 service providers employing more than 12,500 individuals and providing nearly $750 million in annual wages. 
New medical office developments are planned in Gainesville, Oakwood, Flowery Branch and Braselton.  
And small businesses remain the heart of local industry.
The chamber reports that 99 percent of the 4,417 businesses registered in Hall County are categorized as small, using the Small Business Administration's definition of fewer than 500 employees. And about 97 percent of organizations employ fewer than 50 people.
Local public and private schools, colleges and universities also contribute a healthy amount to the region's economy.
Brenau University now is managing the Business Incubator at Featherbone Communiversity, for example.
The chamber also notes that 2019 will see the completion of several traffic improvement projects for Gainesville and Hall County, which can boost commerce, including work on U.S. 129 south of Gainesville, a new Tumbling Creek Bridge, and the new Exit 14 interchange on Interstate 985.
Holiday shopping season
Americans buoyed by a strong economy pushed holiday shopping growth to a six-year high in 2018, with retail sales rising 5.1 percent between Nov. 1 and Dec. 24 from one year ago, according to Mastercard SpendingPulse, which tracked spending online and in stores across all payment types, including those who paid by cash or check.

Total sales topped $850 billion this year, Mastercard said.
Online sales continued to grow, as well, up more than 19 percent from a year ago. Last week, Mastercard said online sales made up 13 percent of total retail sales.
Clothing sold well this year,  up nearly 8 percent from last year, the biggest growth for apparel sales since 2010. And home furniture sales rose 2.3 percent, while electronics and appliances slipped 0.7 percent.
Shoppers spent less at department stores, which Mastercard said was partly due to store closings.
But shoppers did head to the websites of department stores, where sales rose 10.2 percent, Mastercard said.
Traditional retailers have been updating their websites and smartphone apps, as well as making it easier for shoppers to buy online and then pick up their items in store.
Is an economic slowdown coming?
Now, the (potentially) bad news.

The stock market's volatility this year has some small business owners deciding to run their businesses more cautiously, according to the Associated Press.
Consumer spending and the economy are strong and many businesses report all is well. But some owners are worried because their customers are spending less.
Some owners are thinking of taking fewer risks. One concern is that the gyrations are a harbinger of recession; investors tend to buy and sell based on what they think the economy will do in six to nine months.
And while the market has been right before — as in mid-2007, when it began falling half a year before the Great Recession began — it's not foolproof.
Chester Spatt, a finance professor at Carnegie Mellon University's Tepper School of Business, notes that when the market crashed in October 1987, "that fall was not really associated with a material change in business."
Still, when there's volatility, "businesses may react, for example by reducing their orders in advance," Spatt says.
Most economists note that surveys and more-reliable economic data point to a slowdown in capital spending growth next year.
Capital investment did increase markedly in the first half of this year, probably in part because Trump's tax cuts sharply reduced corporate taxes.
But the most recent data suggests investment will slow, not accelerate, next year.
U.S. factory orders for large capital goods have fallen in three of the past four months.
Surveys by regional Federal Reserve banks show that companies are planning to spend less on capital equipment next year.
That's one reason many economists forecast economic growth will slow in 2019 from a pace of about 3 percent this year.
The Associated Press contributed to this report.