With some 
local fireworks shows
canceled or postponed, many may be taking matters into their own hands this July Fourth. 
Jason Silay, owner of Xtreme Xplosives Fireworks on Riverside Drive in Gainesville, said his store's six locations have been buzzing with more customers than usual this holiday. 
"We've already seen the numbers double at this point for the season," he said. "I think people are really looking forward to having something to celebrate that's unifying. This holiday in particular brings many people together." 
For those who are just getting their feet wet in a sea of explosives, Silay recommends opting for color burst fireworks like Gandalf's Power or Fish out of Water, which range between $10 to $30. 
Instead of a loud display, these shoot colorful lights without a boom. 
"It's good for beginners and smaller kids scared of the noise," Silay said.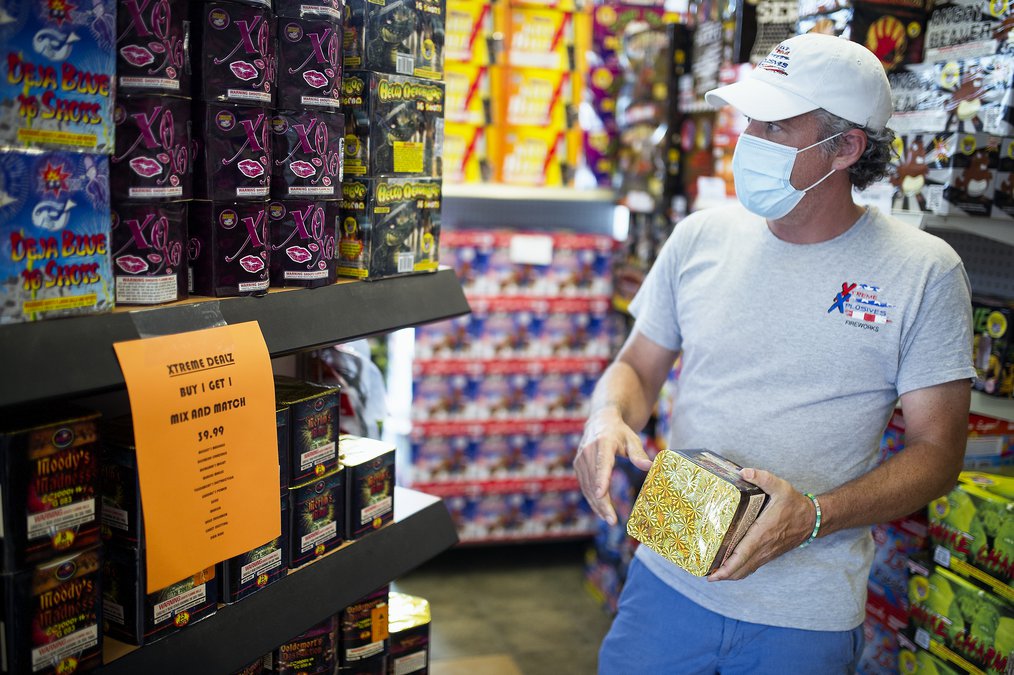 People looking to put on a full-fledged show can wield Excalibur, which Silay said is the No. 1 best-selling fireworks set in the world. The product goes for around $89 in the height of fireworks season. Excalibur also comes in a platinum version with slightly larger parasol shapes. 
The package includes 24 bursts of reloadable fireworks and a range of colors, even less common ones like purple and blue. 
Copper compounds are used to emit the blue color in fireworks. Silay said this makes blue the toughest color to create along with purple, which comes in a close second. 
Those not wanting to fork over that much money can choose artillery shells. These offer the same type of display with less bursts for around $25. 
Silay has tried every pack of fireworks in his shop except for Excalibur Platinum, which was released this year. At his own home for July Fourth, he said he plans to use clay-molded cakes like Merlin's Magic. 
The cakes hold the explosives together, allowing people to have their own fireworks show in a box. Unlike the cardboard cakes, which often shoot fireworks at different heights, Silay said the clay ones shoot at a consistent height. 
People wanting to light one fuse for the entire fireworks display, can buy any of the cakes, including Cooking with Fire, Merlin's Magic and many others. These are typically the rapid-shooting spectacles seen at the finale of a Fourth of July show. 
Silay encourages people to keep either a fire extinguisher or running hose near the fireworks site in case grass or something else catches on fire. 
When firing multi-shot cakes or individually loaded fireworks, he suggests using an anchor. 
"Take some cinder blocks or bricks and place them up against the boxes," Silay said. "If they get kicking and get to rocking, they're going to be shooting in whatever direction they want." 
Under Georgia state law, people can shoot fireworks any day from 10 a.m. to 9 p.m. However, fireworks may be used until 11:59 p.m. on July 3 and July 4. 
Xtreme Xplosives Fireworks is located at 984 Riverside Drive in Gainesville. Its July Fourth season hours are 8 a.m. to midnight Monday through Saturday.  
The store's pop-up stand will be outside of the Walmart Supercenter on Shallowford Road in Gainesville this weekend.