Amos "Hess" Bomberger II still has the suit he wore as a fighter pilot during World War II. He pulls it out every now and again to show it off — complete with everything from the helmet to the jacket — and each time, he's beaming with pride.
The helmet, though faded, still has the same blue and red diamond pattern that was on the nose of his plane he flew as part of the Eighth Air Force in the 1940s.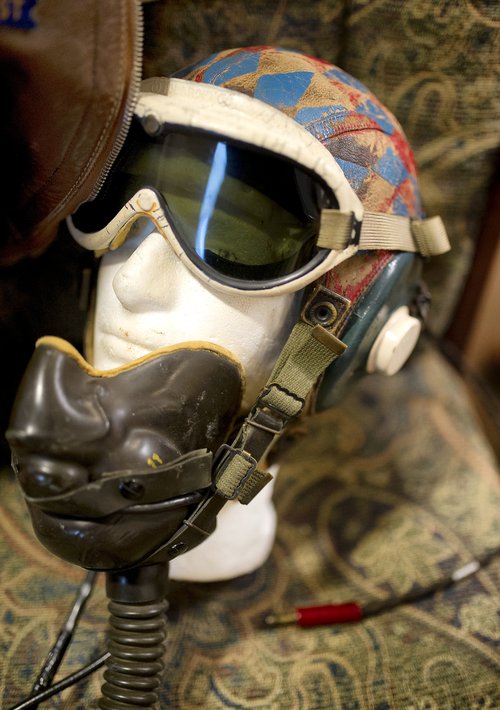 It still has the microphone attached to one side. The oxygen mask is still connected, lined with felt he added because it used to burn him around the mouth. The goggles are still there, too, with white, hand-painted edges.
The brown leather jacket, outfitted with patches from different crews he flew with, like the 356th Fighter Group and 361st Fighter Squadron, still fits and looks to be in pretty good shape, decades after it was retired. Bomberger even designed one of the patches himself.
That jacket has oversized pockets in the lining — the left side held a flare, the right held food and cigarettes.
"That A-2 jacket was the standard jacket you'd get when you first started flying way back," Bomberger said, holding it in his hands. "They stopped giving those out probably after World War II. They started using the new jackets which are woven, rather than leather ones."
He wasn't just given that uniform, though. He earned it, like other veterans who served in World War II. Bomberger, now 98 years old, wasn't just like any other pilot, though.
He already knew how to fly before he enlisted. He had learned while he was in school at Franklin & Marshall College. When he saw the war wasn't going to end quickly, he decided to take the test to join the Air Force, then still nominally part of the Army — and he almost aced it.
Bomberger showed up to the post office in Pittsburgh in 1943 for the test and finished before anyone else.
"I was a nut about airplanes," said Bomberger, a Pennsylvania native. "So I finished that thing early. Here I am with all these guys in there taking that test and there's a guy that must've been a World War I guy. He was an old, grizzled sergeant, and he's sitting up there reading something and he looks at me like, 'You got a question, son?' And I said, 'I'm finished.' And he said, 'Finished?'"
Everyone else was still working, but it turned out that Bomberger only got six questions wrong out of the 150. The sergeant said that was the best score he'd ever seen.
"It didn't make any difference, he was just bemused by it," Bomberger said of his score. "But I went down and raised my hand after I took that test and was sworn in and then the Navy couldn't touch me, the Army couldn't touch me. I was all Air Force."
That love for aviation started back when Bomberger was just five years old. He remembers hearing about Charles Lindbergh flying across the Atlantic Ocean. He's been fascinated ever since. There's even a newspaper cutout of Lindberg hanging outside his door at Lanier Village Estates in Gainesville.
That love of aviation continued throughout Bomberger's childhood as he has fond memories of going out to the G.C. Murphy store to buy a model plane for a dime. He'd take it home and put it together, more than a hundred ended up lying around the house.
Years after building those planes, and shortly after enlisting, Bomberger was put through some classes with the rest the airmen. Except, he had already essentially taken those aviation courses in college.
"Here I was, teaching some of my fellow students," Bomberger said.
He started off in Miami, Florida, learning "military stuff," then went up to Oshkosh, Wisconsin, for more training and then out to California.
"They trained us in different airplanes and finally into fighters," Bomberger said. "The first fighters I flew were P-47s. And then I went overseas and got more training in the P-47 and then joined the P-47 outfit there and then flew a tour there."
As part of the 356th Fighter Group, Bomberger flew in about 70 of the group's 413 missions between October 1943 and May 1945. The group had the highest ratio of losses to enemy aircraft claims of any Eighth Air Force group, which gave them the reputation of being the "hard luck" outfit. It was awarded a distinguished unit citation for its support of the airborne invasion of Holland in Sept. 1944.
Through all those missions Bomberger moved onto flying a P-51, which he enjoyed even more than the P-47.
"I never got to shoot at an airplane in combat," Bomberger said. "A lot of the guys did and they shot airplanes down, but I just didn't get on the right missions."
But he didn't mind. As long as he was in a plane and serving his country, he was satisfied.
"I made out pretty well because every place I went I was flying and all that sort of thing," Bomberger said. "I was just happy as a lark."