What began as a meeting of 23 members 100 years ago is now a weekly gathering of 200-plus Rotarians tied to the Rotary Club of Gainesville. 
"We do have an illustrious history," longtime member John Vardeman Jr. said. "Think about this, every Monday we come together to talk about ideas on how we can better our community. It's the one time we all come together."
Club President Mike McGraw has been a member since 2014, but had dreamed of one day becoming a Rotarian since he was a kid growing up in Hardeeville and Ridgeland, South Carolina, and, later, Savannah.

"Those were the leaders of the community that made a difference," he said. "I always wanted to be part of the Rotary."
"If you look at the list of current members and legacy members," Frank Norton, a local business owner and Rotary member said, "they have been the captains of industry here in Gainesville and Hall County. They are the builders of the community."
Beginnings
The Rotary Club of Gainesville began its century-long journey for the first time on November 16, 1922, in an "old brick dwelling on the northwest side of Spring Street," according to a historical document the club's administration director Carol Colon has been putting together, and was officially chartered Feb. 3, 1923.
The Herculean effort of gathering dates, names and events from a century of meetings has been difficult, but Colon, a member of the Rotary organization since 1988, is up to the task. 
"I love the Gainesville Rotary — it is so deep and steeped in Rotary tradition," she said. 
Sixty-plus years as a member of the club puts Albit Massey in a unique position to answer questions about what the club means to Gainesville and Hall County. 
"Rotary has been very good for Gainesville for 100 years and still is," he said. "It's strong like a three-legged stool."
A more inclusive club 
LeTrell Simpson became the first female president of the Rotary Club of Gainesville in 2004. 
"It used to be a male-dominated civic club, and we would still like more diversity," said Vardeman, a former club president and member since 1994. "We are an open club and proud of that."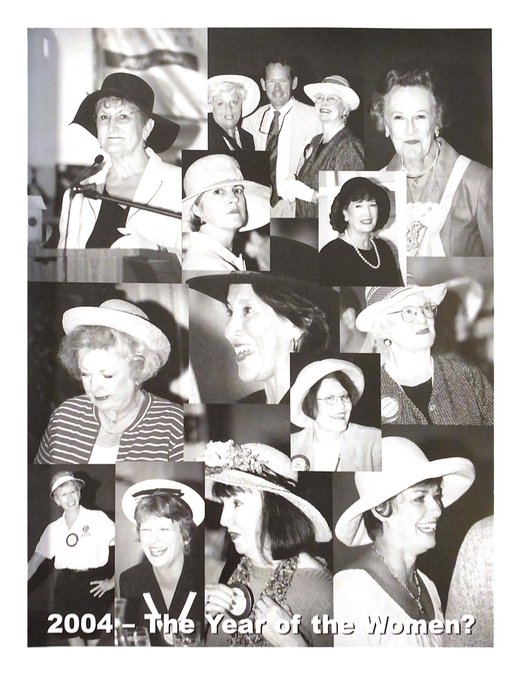 Vardeman shared a story of Simpson playing a joke on members at her first meeting as president, serving tea and finger foods. Male members were worried this was going to be how things were during her presidency, but it was just Simpson's way of both breaking the ice and the glass ceiling. 
"Because she had that sense of humor, it really endeared her to the club and she really set the tone," he said. 
Since then, there have been several female presidents, including Judge Bonnie Oliver and Martha Nesbitt, the former president of Gainesville State College. 
"The club doesn't even discuss it now; it's really about looking for the best leader in the club and it doesn't really matter whether they are female or male," Vardeman said.
McGraw agrees that the club continues to change for the better. 
"I'm grateful for all the changes that happened to make the club more inclusive," he said. "We want to keep looking for the leaders of the community no matter what race or sex."
One of the inclusive programs that the Rotary supports is the Georgia Rotary Student Program, a program that allows exchange students to come to Gainesville to study at Brenau University for a year. 

"It's a wonderful program, and it's not just for our Rotary club, but for all the Rotary clubs in District 6910 (North Georgia)," Vardeman explained. "That program has really fostered a better understanding internationally of our brothers and sisters across the world. Many of them are exposed to our country for the first time. I'm very proud of our Rotary club's leadership with that program." 
Ronnie Waller, John Melvin and Hart Joiner are credited with helping run the program for a long time, overseeing the student applications and matching them up with Rotary clubs within the district. 
Celebrations to come
The centennial celebrations will be spread throughout the next couple of months. 
On Monday, Feb. 13, the club's annual banquet will take place at the Ramsey Conference Center at Lanier Technical College. 
The second annual Midland Music Fest will return Memorial Day weekend, Saturday, May 27. There will also be an official centennial celebration to take place between the banquet and music festival, according to McGraw. 
McGraw credited the club's successes to the members and their different skill sets and connections to the community. 
"This is a service organization and it's amazing what you can get out of any organization like this," he said.
Norton says the Rotary Club of Gainesville should not be mistaken for a social club or lunch club. 
"It's a group of individuals that share ideas, connections and have a single purpose of making the community better."
Massey agreed: "The Rotary has helped Gainesville and Hall County grow and get bigger and better, and it's continuing to do that," he said.