The Rev. Jentezen Franklin has a message for the United States Congress: "Fix our border."

The pastor at Free Chapel was in Bristow, Virginia, with other evangelical leaders on July 13, visiting the Youth for Tomorrow facility. Youth for Tomorrow is a residential children's program and one of the many across the country taking in undocumented immigrant children waiting to join family members or be placed in foster care.
"The purpose for us going was to see firsthand what was taking place with these unaccompanied minors," Franklin said. "I think the headlines, when you see the pictures of the cages or the fences the children are held in at those centers, they're only there usually 24 hours, maybe 48, and then they're sent to one of these 116 centers. So we wanted to see for ourselves what was going on."
Franklin said the idea began when he and others were speaking with Ivanka Trump, President Donald Trump's daughter, over the phone. They wanted to find a way to "brighten the day of these children," so they took a vacation Bible school-type of idea and brought it to Youth for Tomorrow.
While there, Franklin was able to speak with some of the unaccompanied minors while serving food and handing out some daily essentials in backpacks. The children also took part in a soccer clinic with coaches from Liberty University and played on inflatables.
"I was vocal from the beginning, and I felt that it was wrong to separate the families," Franklin said. "We had to do something and, unfortunately, Congress has done nothing, still continues to do nothing, about this growing crisis."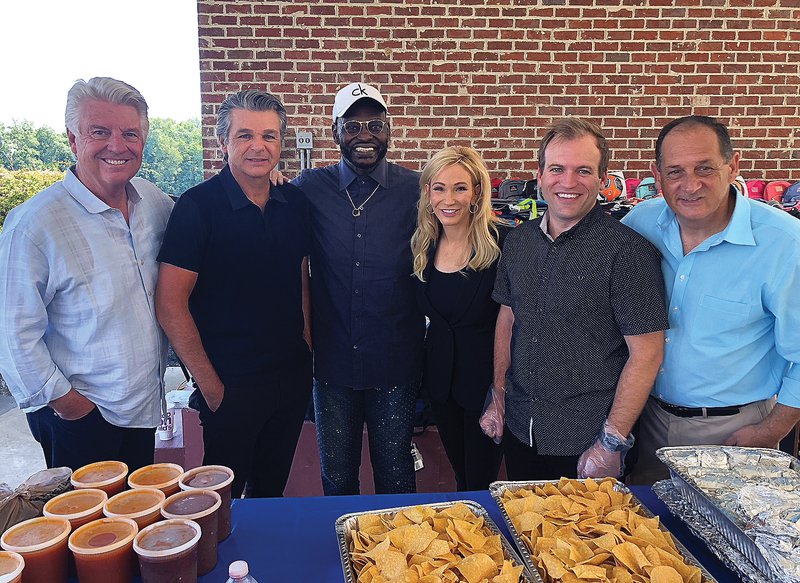 The growing crisis he's concerned about is the lack of security at the U.S.-Mexico border. Franklin said following the trip, the "biggest takeaway" for him was the immense need for Congress to fix the immigration system.
"To not do so, to not secure our border, is actually to enable human traffickers," Franklin said.
Most of the children at the Youth for Tomorrow camp were unaccompanied minors, meaning they weren't separated from their families at the border but were sent on their own, sometimes as victims of human trafficking.
"This is the part of the story that so many people don't understand," Franklin said. "They're being trafficked by gangs and by human traffickers that see them as nothing but dollar signs."
After being detained at the border, Franklin said unaccompanied minors are sent to a facility like the one in Virginia for 50 days until they're reunited with family or sent to foster care. He said he's reaching out to the evangelical community for a plan to help when those 50 days are up so the children are sent to caring families.
One idea he has is to find 2,000 churches that "are willing to step up" with a handful of families able to provide a foster home for children in those facilities "until it can be figured out exactly what needs to be done."
"The bottom line keeps going back to Congress has got to do their job," Franklin said. "They have got to secure the border ... and my prayer is that they would be compassionate to the immigrants that are here."
That's the other message Franklin wanted to make clear. He wants to urge everyone to show compassion for the immigrants who are in the U.S. because "they're running from something."
"Show compassion and mercy and help to these immigrants because they're human beings," Franklin said. "They're people. They're children, mostly, and a child is a child and they need our help."