Lake Lanier offers a lot of shoreline, and if you hit the right spot, that can mean a nice day at the beach. Sure, the waves only come when a boat speeds by, but there's still sand, sun and water. Daytime access to most of the parks is $5 per car or $2 per bicyclist or pedestrian, unless otherwise noted.

1. Burton Mill Park
Where: 6555 Yacht Club Road, Flowery Branch
The beach here has a view of the University Yacht Club's boat slips, so expect some boat traffic. The park also has its own boat docks and ramps you can use until 10 nightly. Along a shady trail you'll find some picnic tables. But if you prefer the sun, there are plenty of tables without shade, too.
2. River Forks Park
Where: 3500 Keith Bridge Road, Gainesville
The beach area here is right beside a playground and covered picnic pavilion. If that area gets crowded though, you can stroll down to the other pavilion to have your lunch or even use one of the many tables spread throughout the woods. There's also a boat dock and ramp available for use. And watch out for wildlife — you just might see a deer. A daytime pass to access the park is $5 per car.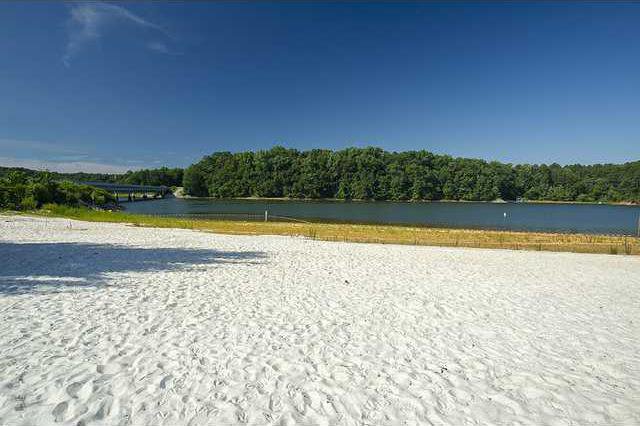 3. Clarks Bridge Park
Where: 3105 Clarks Bridge Road, Gainesville
Clarks Bridge Park is also the site of Lake Lanier Olympic Park, which hosted the rowing events during the 1996 Olympic Games and continues to be popular with local residents. Bring your boat for some fun because the area has several boat ramps and a dock. But if you don't have your own boat, you can try renting a kayak, canoe, stand-up paddle board or even a pedal boat through the Lanier Canoe and Kayak Club. After some time in the water, you can enjoy yourself on the beach area and make use of one the park's picnic tables. Admission and parking is free.
4. Don Carter State Park
Where: 5000 N. Browning Bridge Road, Gainesville
Since the state park opened in 2013, Don Carter has been quite a hit. It not only has a beach the whole family can enjoy, but it also offers several other amenities, including boat ramps, docks and a fish cleaning station. There are playgrounds for children and four picnic shelters. For those who want to hike or bike, you can find 4 miles of trails at the park. Kayak, stand-up paddleboard and aqua cycle rentals are available depending on the season. A daytime pass to access the park is $5 per car.
5. Little Hall Park
Where: 3501 Dawsonville Highway, Gainesville
The beach is tucked beside forested paths dotted with picnic tables and grills. A tiny playground is nearby. There's also a facility for fishing tournaments across the parking lot from the beach.
6. Old Federal Park
Where: 6219 Old Federal Road, Flowery Branch
To get to this park, you'll have to travel down a winding road in the woods, but it's a nice view. There are two beach areas, both equipped with life jacket stations for kids. The park also has a boat ramp, a sand volleyball court and benches under the many trees.