Zandrea Stephens, division manager for Frances Meadows Aquatic Center in Gainesville, remembers when the complex opened in August 2008.
"For me, to have an aquatic center in Gainesville, Georgia, and to see that many people come out, I knew that we were amidst something that was going to be great," Stephens, a Gainesville native, said. "That first day in August, we were so packed. I'll never forget."
The center will mark its 10th anniversary in August, and to reflect and celebrate, Gainesville Parks and Recreation is throwing a birthday party Wednesday, Aug. 1.
10th birthday celebration
When: 11 a.m. to 4 p.m. Wednesday, Aug. 1
Where: Frances Meadows Aquatic Center, 1545 Community Way, Gainesville
How much: $4 plus tax, free for members
Stephens started at Frances Meadows working at the front desk, then became a senior secretary, then recreation program manager and now division manager.

"It has been absolutely amazing. I wouldn't trade this for anything," Stephens said.
The aquatic center sees about 200,000 visitors each year, according to Gainesville Parks and Recreation Director Melvin Cooper.
Cooper said the most recent fiscal year, which ended June 30, was the first year the center broke $1 million in revenue. Operating costs annually are about $1.4 million, he said, so about 70 percent of costs are covered. The rest is funded by the city's parks and recreation tax.
Cooper said the aquatic center is one of the largest projects the parks and recreation department has taken on in his 46 years there.
"I was out on the deck the day that we opened up the pool, and it was kind of like me watching a baby being born and how proud I was of it and how proud this community was of it and what it's meant to the community since then," Cooper said.
Shortly after the facility was opened, it was dedicated to Frances Jenkins Meadows, Hall County's first black commissioner, who died of leukemia in 2002.
The facility has indoor competition and instructional pools, an outdoor splash zone play area and two waterslides three stories tall. In 2014, some meeting space in the building was converted into a land fitness center where patrons can take a variety of courses, including Zumba and yoga.
The center has also joined the SilverSneakers program, which allows seniors to access the fitness center for free as a benefit of many participating health plans.

The fitness programs, particularly for seniors, have helped the facility gain regular patrons even in the colder months when the outdoor splash zone pool is closed. Stephens said she has enjoyed seeing the center become part of the patrons' lives.
"If they haven't been here in a while, we're like, 'Where have you been? I haven't seen you in a while,'" Stephens said. "…When they need something, we jump right on it because they're here almost every single day."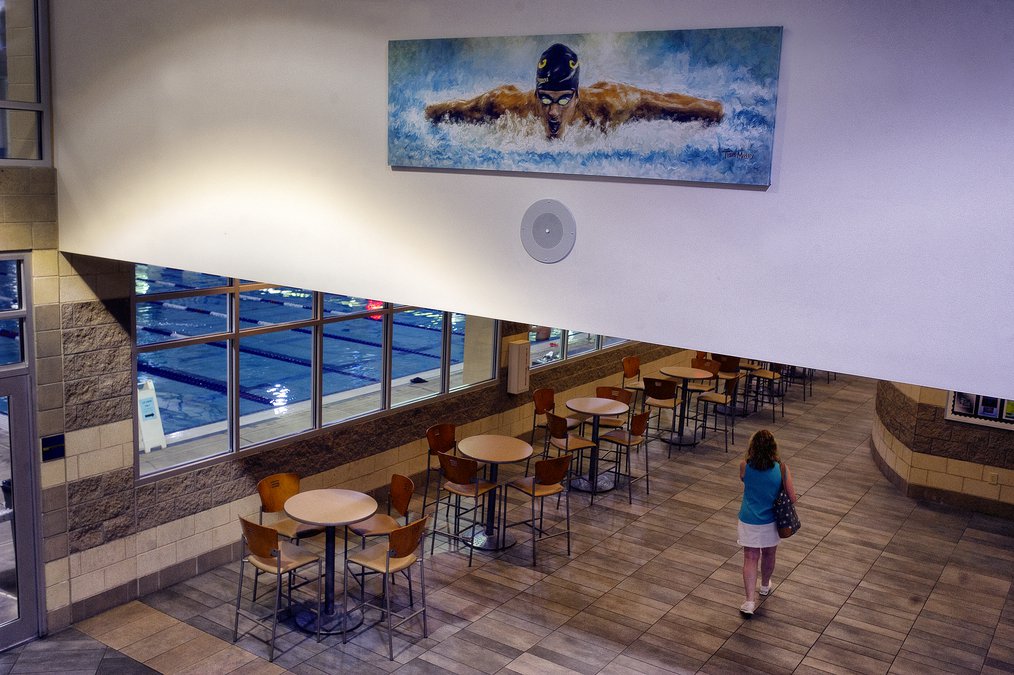 Larry Bussler of Flowery Branch is one of those regular patrons. He comes to the aquatic center for two water aerobics classes every week and credits the classes with helping him regain mobility in his hand. He sustained nerve damage during heart surgery and lost the use of a part of his hand and arm.

"When I first started coming here, I could not move these fingers at all," Bussler said, while motioning with his hands. "These were damaged during the surgery but they can't be repaired. These here are getting stronger now." He's been taking classes for about a year and a half, but he's also a volunteer — he works with Special Olympics athletes there on Saturdays.
"It helps me in two ways: physically and it's a chance for me to give back as well," Bussler said.
Jan Nance, a water aerobics instructor who started working at the center in February 2009, said she has seen people improve their lives and make connections by coming to the aquatic center.
"I call it the church of the water," said Nance, who teaches 14 classes a week. "It has nothing to do with religion. It has to do with the fact that we care about one another, we become families, we actually check up on the health of each other."
Nance said some people may hesitate to try water aerobics if they don't feel that they are a strong swimmer, but they shouldn't worry — the classes are a "no wet head zone," and they are held in the shallow end of the pool.
However, people can learn to swim at Frances Meadows, and the facility's staff have even partnered with nearby Gainesville Middle School to offer swim classes for sixth-graders as part of the school's physical education curriculum.

Julie Butler Colombini, marketing and communications manager for Gainesville Parks and Recreation, said Gainesville's proximity to water makes it essential for children to learn to swim.
"When we got them in the pool the first day and 80 percent of the sixth-grade class could not float, we knew we were doing the right thing," she said.
About 200 swimmers also come to the aquatic center each week for training for local high school swim teams.
Butler Colombini said the aquatic center stays busy, and parks and recreation staff are always looking for new things to offer.
"We program to the max, to the amount of space that we have, and we continually change our offerings for what our participants want," she said. "We ask them and they tell us and we do everything we can."
The center serves a diverse population with varying needs, she said.
"It reaches across ages, demographics, people with special needs, seniors who need to recover from surgery, children learning to swim — the health component alone at this facility makes it invaluable to this community," she said.
The aquatic center's 10th birthday celebration will be 11 a.m. to 4 p.m. Wednesday, Aug. 1, and feature giveaways, music and games.