Brian Kemp told voters in Gainesville on Tuesday morning that the Nov. 6 election, in which he is running for governor, is "a fight for our future."
Kemp, Georgia's Secretary of State, encouraged supporters at Longstreet Cafe to head to the polls.
"(Democrats) are turning their base out in historic levels. You may not see that here in Northeast Georgia, but I promise it's happening," Kemp said. "We cannot allow people to sit at home. We have to squeeze out every vote that we can to put up a red wall around the good work that these good folks have done in this state for 16 years now and knock that blue wave down."

Kemp had the support of several Republican state politicians, including Gov. Nathan Deal, U.S. Rep. Doug Collins, state Sen. Butch Miller and state Rep. Matt Dubnik. Continuing the work of Deal and other Georgia Republicans was a focus of Kemp's speech Tuesday.
Live video of event
He said he wanted to build on the growth of Georgia's economy and support local businesses.
"I have signed not only the back of paychecks, but I have signed the front of them," Kemp said. "I know what it is like to fight for your survival during tough times, like during the Obama recession."
Kemp vowed to cut taxes and work to lower health care premiums. He also said he wants to protect the state's Hope scholarship, but he does not think that program should be available to people who are not in the country legally.
School safety would also be a priority of his administration, Kemp said.
"Nothing is more important to me as a father, and nothing is more important to you as a parent or you as a grandparent, as well as our teachers and administrators," he said. "We have to keep that environment safe in this crazy world we live in."
Kemp also said he wanted to give teachers in Georgia pay raises.
His focus on education policy was one factor in earning him the support of Brittany Brookins and Cassidy Buck, two Brenau University students who are studying to become teachers.
Brookins, who is from McDonough, said she likes how Kemp seems approachable.
"Kemp has taken the effort to meet people and get personal and go to small towns like Gainesville and show them that their voice matters," she said. "I think that really matters to people and gets their attention."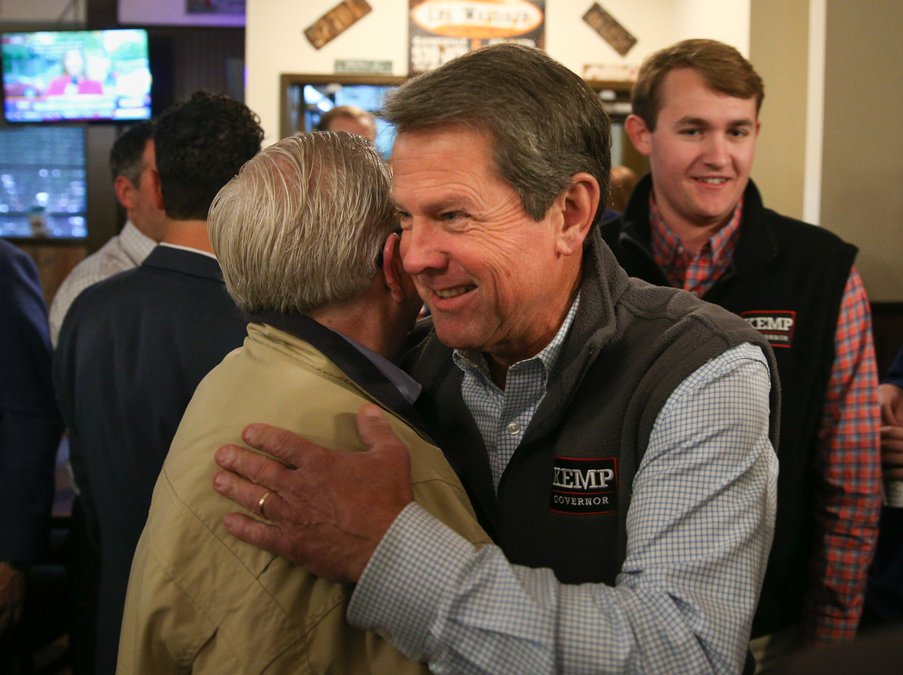 Buck, from Roswell, agreed.

"It's very important to be personable," she said.
Art Gallegos Jr., co-founder of the Latinos Conservative Organization, said he also thinks Kemp is honest.
"I think he's a straight shooter. He says what he means," Gallegos said.
Gallegos said the Latino community judged Kemp more harshly at first, but from his conversations with people such as pastors and business owners, many seem to be changing their minds.
"He might have said some things that perhaps were not very attractive, but at the end of the day, we need to keep this county, this city and this state conservative and red, because of our convictions and because of what we believe," Gallegos said.
Some Latinos still have a "sour taste in their mouth" over Kemp's immigration stances, but community leaders seem to understand that immigration is a federal issue and are willing to work with Kemp if he is elected, Gallegos said.
Speaking with the media after the event, Kemp criticized out-of-state influence on the governor's race.
"My opponent's got money flowing in here from New York and California, but I think Georgians are waking up now and saying, we don't really want a billionaire socialist from California giving direction on the Georgia governor's race," Kemp said.
Kemp, who is from Athens, also said he wants to focus on helping Northeast Georgia, particularly by supporting local businesses, transportation projects and higher education.
"I know there's great colleges in Northeast Georgia, as well as technical colleges, and we need to continue to work on those workforce development issues and supply the workforce of the future," he said.
Deal also emphasized the importance of education in workforce development when speaking at Tuesday's event.
"If you're going to have the kind of skills that companies are looking for, a lot of those are blue collar skills," Deal said. "Some of you were with us just a week ago when we cut the ribbon at the new Lanier Tech. It is going to be one of the best institutions that our state has."
Deal said he felt that Stacey Abrams, Kemp's Democratic opponent, would undo progress made in recent years in Georgia, like tax cuts and business reforms.
"I know that Brian is going to be someone who will stand against that," Deal said.
Kemp, Abrams and Libertarian Ted Metz are on the ballot for governor in the Nov. 6 election.