We've all heard tales about our parents or grandparents having to walk through the snow and cold to get to school.
But these aren't just tall tales or urban legends.
In 1969, for example, 48 percent of students in the United States between the ages of 5 and 14 walked or biked to school regularly, according to the National Center for Safe Routes to School. But by 2009, that figure had fallen to just 13 percent.
And, today, less than half of students who live within a mile of their school walk or bike even once a week.
Walk to School Day, an international event that U.S. students have participated in since 1997, has set out to change that.
More than 100 students and their parents from Enota Multiple Intelligences Academy met at Green's Grocery and the Junior League Lodge (former Elks Lodge) on Riverside Drive in Gainesville in the half-light of dawn on Wednesday, Oct. 3, to walk the mile or so to the elementary school.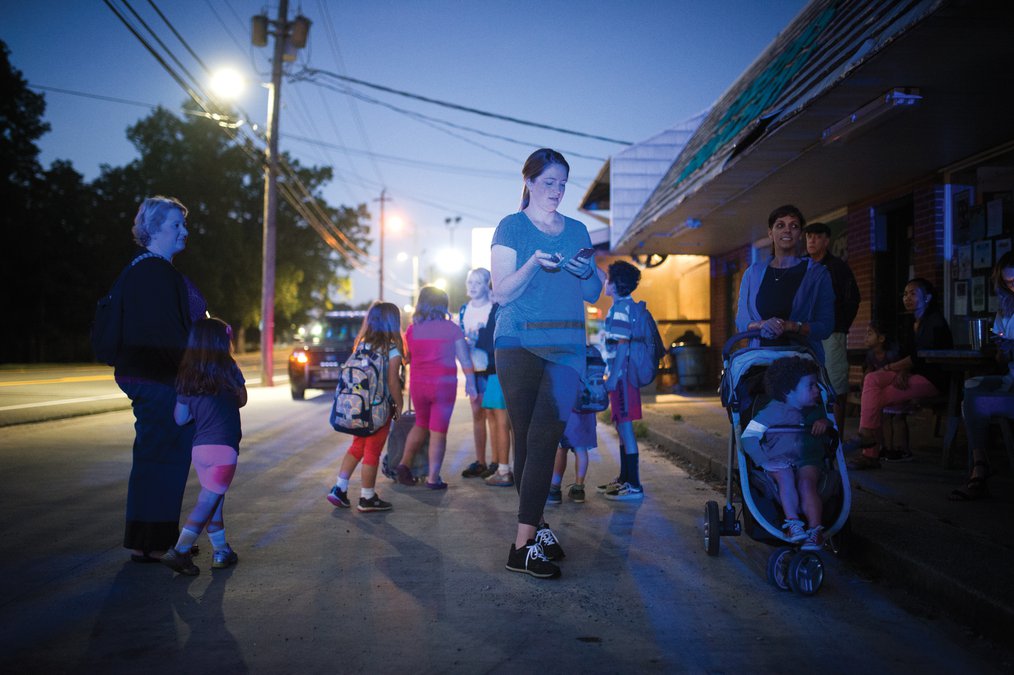 This was the 14th year that Enota students participated in the event.
Principal Wesley Roach said it's become something of a "standing tradition" for his school, which is nestled in the heart of a residential neighborhood.
It gives students the opportunity to walk to school, whereas others might have to ride the bus or carpool because of the long distances from home to schools, he added.
Roach said the annual event helps promote exercise, awareness of the local environment, and safe walking and biking routes.
Moreover, "It does create a sense of community fellowship," Roach said. "We're fortunate to have a high level of parent involvement."
Thomas and Katie Winfrey said their son, Charlie, who is in first grade, told them about the event and why he wanted to participate.  
"He was looking forward to it," Katie said. "He was excited to spend time with us."
"I think there's a great community feel to have events like this," Thomas said.
Christina Rayneri-Reed, who used to walk to school herself while growing up in Albany, Ga., said it was nice to see her daughters, Olivia and Elizabeth, who are in fourth and first grades, do it, too.
"I think it's a good community activity for kids to do," she added.
Mike Kerr, whose twin boys Mak and Bryson are in kindergarten, said communities today are so large that there can be a disconnect between families and the schools their children attend.
But walking to school with his kids "brings back good memories" of how he used to do the same growing up, Kerr said.