Two Gillsville council members are facing off for the Post 2 seat. 
Jeff "J. T." Perry is the incumbent for Post 2, and Larry Poole is the current Post 1 council member, but Poole decided during the qualifying period to change his sights to his fellow councilman's seat. Poole said this was because two people had already qualified for the Post 1 race, Kody Rylee and Phil Ferguson, and he did not want to risk a runoff election that would cost the small city extra money. 
Still, this sets up a race between Perry, who has been on the council since running unopposed in 2017, and Poole, who served as Gillsville's mayor for 24 years before moving to his Post 1 seat in 2017. 
Larry Poole
Political experience: Gillsville mayor for 24 years, then Post 1 council member since 2017
Occupation: retired, worked for BellSouth, Hall County's engineering department
Top issues: keeping out growth, controlling traffic
Poole, like many people in Gillsville, said he wants to see the city remain small and keep out commercial and industrial development. 
"We are one of the few cities that is not pro-development," Poole said. "We are not interested in a lot of growth. We welcome people; we like being a farming community. We like having a place where you can have four acres and a horse if you want it."
Gillsville could be a prime location in the coming years for new development because of its proximity between Highway 365 and Interstate 85, Poole said. 
"We are on a traffic corridor that they're looking to upgrade for truck traffic from I-85 to 365, and I want to do everything I can to combat that," he said. "We're already overrun with traffic as it is, and that would just about blow us off the map."
Many people in Gillsville like living there and commuting to work, whether in Commerce or Gainesville or elsewhere, Poole said, so he doesn't want to bring in big commercial developments.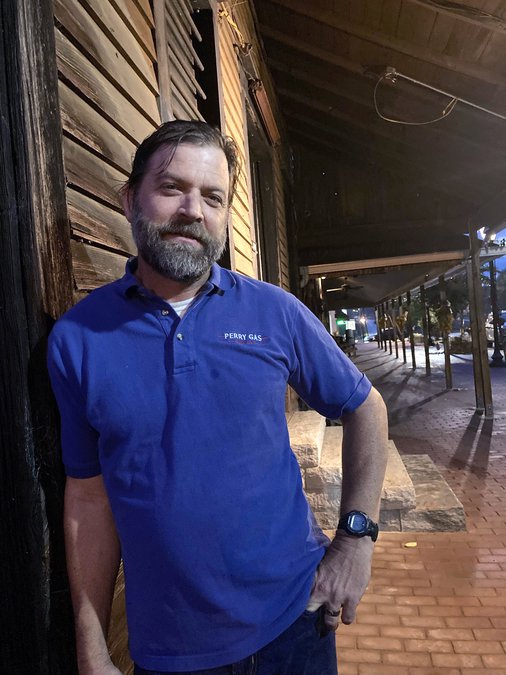 Jeff "J.T." Perry
Political experience: Post 2 councilman since 2017
Occupation: Perry Gas Company
Top issues: improving infrastructure, parks, managing growth
"I'm not going to sound like we're in the early 1900s and don't want anything," he said. "We just want whatever's in here to fit in with what our citizens want."

In the past, it has been difficult to maintain Gillsville's city status, Poole said, and he wants to make sure its residents keep their local representation. 
For Perry, the most important thing is improving the city's infrastructure, he said. The COVID-19 pandemic delayed some recent capital projects, Perry said, including adding exterior bathrooms to Gillsville City Park. 
Effects from the pandemic have driven up labor costs for many construction projects. Perry said, the city has had a tough time getting contractors to commit to projects they need done, such as building a road between historic Gillsville, Highway 323 and Church Street
"The people that would do those types of jobs, well, they have more work than they can do right now," Perry said. 
Perry works at the family-owned Perry Gas Company in Cornelia and has lived with his wife in Gillsville for 12 years. He said he loves the small town atmosphere. What Gillsville has is harder to find these days, he said. 
Constituents have told him that they want better parks if possible, and the city has looked into creating a walking trail, Perry said. But funds can be hard to come by. 
"What we've been hampered on is, when we get money it gets allocated for a particular job, and we have to use it for that," he said. 
And residents keep council members honest and accountable, he said. 
"They really do remember if something did get done or if something didn't get done," Perry said. 
Perry said he is confident that he can challenge Poole in November. 
"​​I do believe that people are wanting a change," he said. "I believe that we're going to be able to give it to them."