The busiest little place on Jesse Jewell Parkway, Alpha Gyro Grill, celebrated its one-year anniversary in September by giving out free dessert to everyone who stopped in.
For the regulars at Alpha, a sample is no surprise — the owners of Gainesville's bustling Greek restaurant, husband-and-wife team Christos Nicolaou and Sally Griffin and former Atlanta restaurant manager George Giannoulas, have established themselves as a local favorite with dedicated followers. It's only problem is one also covering the rest of downtown Gainesville: parking.
It could have gone wrong for Alpha, which sits a few minutes walk from the Gainesville square facing the dizzying intersection of Jesse Jewell and E.E. Butler parkways. The business is tucked into an unsuspecting strip next to a shoe repair and mani-pedi business.
But instead, the restaurant has become among the most popular lunch spots in town.
"We believe in our good food," said Christos Nicolaou. "And we're not a big chain. People are getting away from big chains, and also we are clean. I mean these elements contribute to people coming here all the time."
Most guests have their favorites: Gyro wraps, falafel wraps and chicken souvlaki, the tangy Greek potatoes. But as the North Georgia temperature begins to drop in the coming weeks, there are some unique — sometimes overlooked — options on the menu, or coming to it, that are perfect for this time of year.
One of the menu mainstays in Alpha's first year has been the chicken lemon soup. Although it's a creamy soup, it's dairy-free. Nicolaou said it's all from beaten eggs and starch from the orzo pasta. They go through "tons" of it each week, which is good for customers because it means it's being made fresh all the time.
"We rotate the soups," Nicolaou said. "Usually during the summer we have two soups, but in the winter it will probably be three."
The soup he said he's most excited about is a Grecian classic: navy bean soup. It hasn't made it to the menu yet, but should be showing up in the next few weeks or so. Navy bean soup is "considered the national soup of Greece." It's made with navy beans, carrots, tomatoes, celery and onion along with all sorts of Greek spices.
Chicken and lemon and navy bean soup, he added, are "the way that Greeks would eat."
Stuffed cabbage has been popular throughout the summer, and it will continue through the winter. After the cabbage is cooked, it's stuffed with ground pork, ground beef, rice, herbs and vegetables, then baked. Nicolaou said he's found people in the South like cabbage, so he added his Greek touch with the filling.
Maybe the most unique offering to hit the menu recently, which will keep going to through the winter, too, is pasta.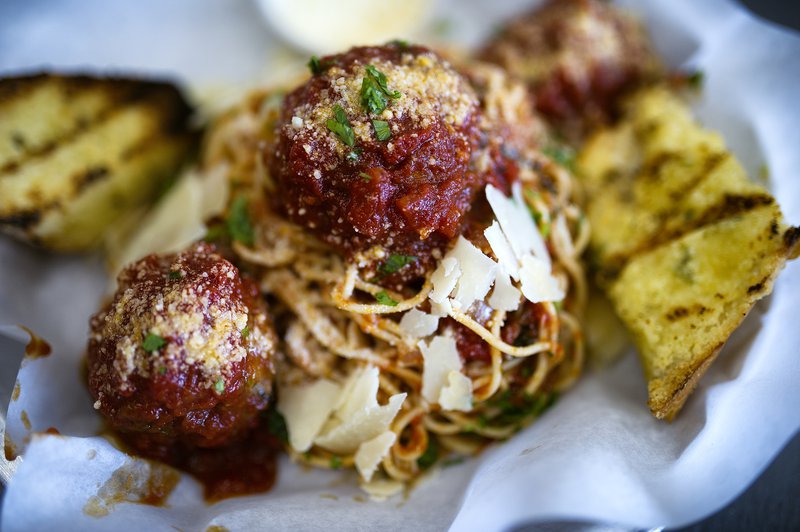 Although it's not a common item at Greek restaurants, Nicolaou said Greeks eat a lot of it.
"Don't forget, we're next to Italy," Nicolaou said.
Alpha wanted to start selling pasta because of the durum wheat found in Greece. The country "produces one of the best wheats that Italians buy," Nicolaou said.
The way the restaurant elevates its pasta dishes is by adding an unusual ingredient. While the meatballs are made with Greek spices, the meat sauce is made with a stick of cinnamon. Nicolaou said it gives the dish a Middle Eastern sweetness, perfect for Alpha Gyro Grill.
"This is a little secret," Nicolaou said. "The margarine, the thyme, oregano, rosemary, all are imported from Greece and have intense flavor, smell and essence."
And for those vegetarians who may not be able to try the meatballs or meat sauce, there's the spaghetti a la grecque, which is made with pasta, fresh tomatoes, capers, kalamata olives, feta cheese and greek spices.
Another vegetarian go-to? Baked lima beans.
"We have a lot of vegetarian items, and this is a very wintery food," Nicolaou said. "it's very filling … Just boil them and then put them in the oven with tomato sauce and herbs and bake them in a tray."
After one year of successfully serving the people of Gainesville, Alpha Gyro Grill is hoping for much of the same in its second go-around. To Nicolaou, Griffin and Giannoulas, the success didn't come as much of a surprise. With their combined restaurant and business experience, they've been able to craft dishes found at Alpha and nowhere else.
"There's nothing like this in dozens of miles," Nicolaou said.