Inside the walls of a new dance studio is a Bible. It's a simple, black, soft-cover text with "Holy Bible" inscribed in gold on the front. 

Just above the Bible, on the sheetrock that will help build the walls of the dance studio, is Proverbs 27:17. It is written in black permanent marker.
For Heather Wayne, owner of Heather Wayne's Performing Arts Academy in Hoschton, that's the foundation of the business. Without those elements in place, there would be no success at her new Riverside Drive location in Gainesville, in the basement of Green's Grocery.

"It's just leaving a sentimental message to bless this business and bless these kids who come in here," Wayne said. "It's for God to always look over them and protect them. We just put that stuff in the walls and leave it there."
For a couple years now, Wayne has been thinking about opening a new location, somewhat of a north campus for the more than 300 dancers training at her studio in Hoschton. Many of those dancers, ages 3 and older, travel from the Gainesville area to her only location, now in its 16th year.

Now with a location in Gainesville, those dancers won't have to make that trek. It's more convenient and could perhaps bring in more dancers than she ever dreamed possible.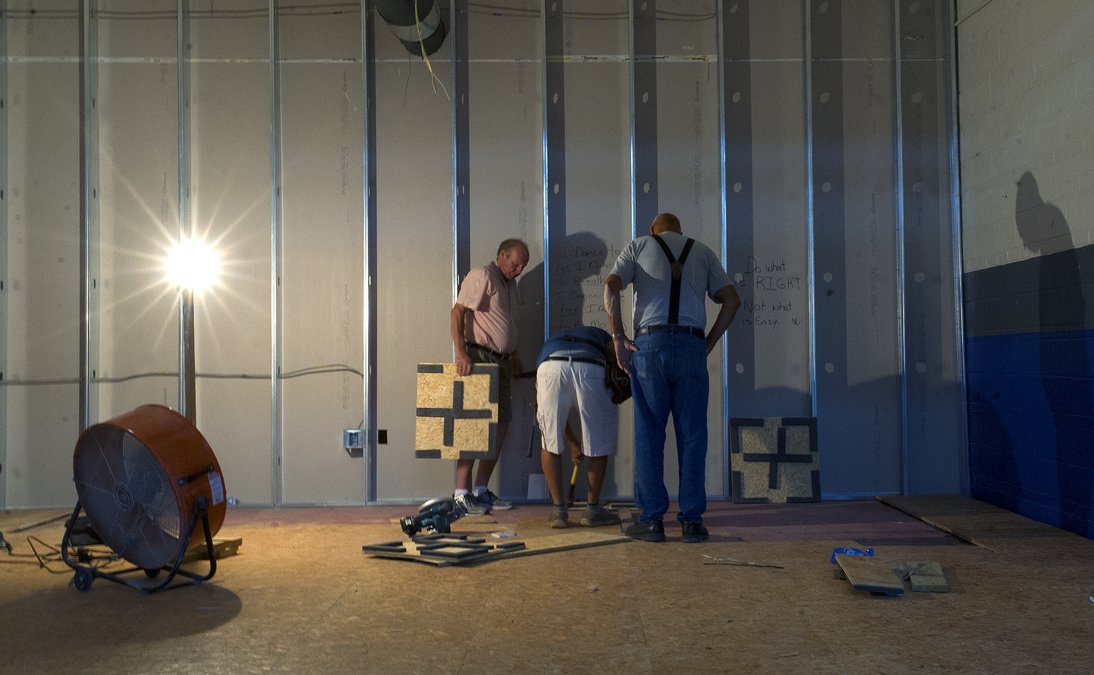 "We put it on hold for a year and honestly, I started looking for signs," Wayne said. "I feel like when I'm led somewhere, signs will show up. We looked at place after place and they were just dead ends."

Finally, her husband, Jon, who owns The Venue at Friendship Springs in Flowery Branch, convinced her to look at the basement of Green's Grocery. Admittedly, Heather wasn't fond of the idea and thought it would be another dead end.
The basement was dark, filled with furniture and clutter from a nearby business using it as storage. The Waynes had to climb over items to make their way through the building. Heather said as soon as she walked in, she saw an oversized hallway and started to mentally create each room inside.
"Studio one," Heather remembered thinking. "Studio two, studio three."

They made their way through each one of the warehouse-type rooms toward the back of the building. That's when they came to the room that sealed the deal.
"When we saw the mirror on the wall, we knew it was meant to be," Heather said.
"When we walked in here and saw the space and I saw the mirrors on the wall, I was like 'OK, this is a sign,'" Jon said.
A lot of work had to be done to the building, though. And Jon was limited in how he could manipulate the rooms because of the large columns already in place, supporting the weight of everything on the floor above. It all seemed to fall into place fairly quickly, though.
"I wanted something different," Heather said. "Thirteen years ago, we built the building we are in now. I wanted a warehouse feel and Gainesville has all this historical background and history and I wanted to mold into that. I wanted to bring light to the history of Gainesville."
The new facility will feature a tap room, ballet room, hip-hop room and a room for private lessons room. There's space for a locker room, four individual bathrooms, a homework area and waiting room. It's being modeled after the studio they already have, but with bigger rooms.
"We've been to 14 different places because we wanted to go with a warehouse look," Jon said. "The building she's in now, we built custom from scratch. But we knew we wanted to go with the warehouse feel."
In a new space with such a central location, Heather said she'll be able to bring in celebrity teachers more often. The Gainesville location is easy to get to from Atlanta, where most of them come from, and having an additional location gives the teachers twice the work.
The finishing touches are going up in the new Gainesville location and once all inspections are cleared, free classes will be offered for the rest of September. As soon as October hits, classes will officially begin and Heather will be working twice as hard.
"My passion is reaching out to kids and giving everybody the opportunity to experience performing arts, whether it's dance or acting, and then giving them the ultimate shows." Heather said. "I want them to have these amazing shows and give them this opportunity so they can leave with self confidence, inspired to do other things."