Kerstyn Gibbs wants to collect roadkill.
You might have seen the 26-year-old Maysville artist at the North Hall Christmas Market or Mule Camp Market selling wares that have changed as much as she has over the years. Reptile skins, jewelry, animal bones, insects frozen in time — if you've passed one of her booths, you'll remember it.
Originally from Hoschton, Gibbs started trying to sell her art as a child being toted to small trade shows by her mother, Sheryl Webb. Back in the day, she was making glass and stone jewelry.
"At the first one I told her, 'Mamma, this is what I want to do when I grow up," Gibbs said, sitting on a park bench in Maysville on a sunny, breezy December morning.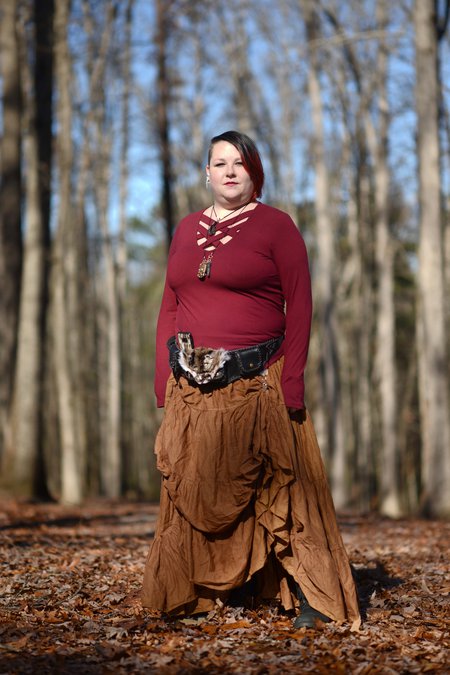 She's wanted to be an artist since she could hold a crayon, but despite being raised in a conservative Christian home in Jackson County, Gibbs tended toward the fantastical — bright colors, wild beasts, unreal shapes.

The medium has changed over the years, from crayon to pencils and markers, from plastic beads to glass to gemstones, from clay to bone and bugs, but the subject has been fixed on the fantastic — and moving gradually into the odd.
Gibbs, who's quick to laugh despite being an anxious artist still finding her footing in North Georgia (she focuses on her art while her husband, Caleb Gibbs, works in IT), traffics in ethically collected "oddities," an art and media subculture that shares a table in the cafeteria with steampunk focusing on the old, the rusted, the preserved.
"Bone mushrooms — that's where it started," Gibbs said, speaking up from across the bench after striking on the memory of how she got into the world of oddities. "I was making bone mushrooms. I would just take a little piece of wood and make this almost fairy garden out of bones and stuff. I would use snake vertebrae for the stalks and sand dollars for the tops, and I'd add moss and crystals."
Fairy gardens themselves are a relatively mainstream spinoff of the bonsai tree hobby — mixing meticulous care and design with miniature worlds. Gibbs' spin on it took her into the world of oddities, including a trade show that recently visited Atlanta and will come again in February, where her creations have become increasingly in-demand.
"It's a weird culture for some people, but it's really popular," said Cyndi Moore, a friend of Gibbs' and owner of Reigning Reptiles, a reptile pet and supply shop in Buford. "It's nature and art — why not use what's here for art?"
Moore struck up a friendship with Gibbs when the girl walked into her store in 2014 looking for a pet. Through the years, the business owner has carried some of Gibbs' artwork and even given her some supplies for her art — shed snakeskins, not bones.
"I'm a widowed mom, and it was hard for me," Moore said. "I know it's hard for women in general in this business, and when I see her, I see that. I try to give her help because I wish I had it."
In the new subculture, she found all number of supplies of ethically harvested and collected bones that she's made into the latest medium for her art, which has grown into a series of sculptures combining animal parts with copper, gemstones and other materials.
Her pieces are unnamed and are generally presented as scenes within glass showcases. From the back of an art-cluttered
SUV, she produced a tall, glass display case holding a copper tree covered with preserved Asian moths. At its base sat a racoon skull crusted in quarts and raw emeralds. The animal had been killed by a car, and she purchased the skull through one of her oddities markets.
"I don't like wasting anything, so that's why I do this — I take what other people would discard and I put it to use," she said.
As a whole piece, the display isn't intended to jar or to unsettle — you might not even notice the particulars without looking closely and instead see the emerald glitter of the moth wings or the clean copper winding up the glass.
There are others — a deer skull wound in the center of a rabbit fur dreamcatcher, a bat skeleton hanging upside down above a bed of black gems — that aim for stronger reactions.
As a matter of fact, Gibbs' insect pieces are her best-sellers. She makes small, glass displays with posed insects on display over a bed of rough gems.
"People don't think of them being dead so much as a mammal," she said. "The mantises usually go within 30-45 minutes of the show opening."
But in the long run, she sees more and more bones in her work. The young artist wants to study taxidermy and, eventually, have the time and tools to harvest her own roadkill to clean and remake into her art — rather than let it rot on the roadside.
"It can take six months to a year to properly clean bones," she said.
It comes as no shock then, to you or to Gibbs, that her art has been getting more and more out of step with the small markets that got the woman her start in the art world. She plans to keep visiting Mule Camp Market in Gainesville, but in the future will focus on oddities markets while keeping up a social media presence.
But what might come as a surprise is the welcome she gets from people in the oddities world, where the unconventional is in high demand.
"I did really well at the Atlanta Oddities and Curiosities Expo. I did really well there — that was my best show," she said. "It was one day, and I beat my best three-day event (while was there). There was not a single second from the time the doors opened to the time the doors closed that my booth was not full."
It went so well, in fact, that she's considering following the traveling show into a few neighboring states.
"It feels good knowing that I have put all of this time and a lot of money into this stuff — and people are actually really loving it," Gibbs said.