You may not know what a chautauqua is, but the Northeast Georgia History Center is excited for what the new series of shows will bring to the community.
Ken Johnston, director of education at the history center, said the New Gainesville Chautauqua can be closest compared to Vaudeville-style shows, except instead of just for entertainment, a chautauqua adds education, too.
New Gainesville Chautauqua
What: Educational and entertaining portrayal of figures from the Indian Removal Act period
When: Remaining shows scheduled for 7 p.m. July 9 and Aug. 13
Where: Northeast Georgia History Center,322 Academy St NE, Gainesville
How much: $6 or free for museum members
More info: www.negahc.org
"You can think of chautauqua-type shows as mixing entertainment and education," Johnston said. "That really was part of it from the very beginning, back in the late 19th century. And that's certainly what we're doing today with our chautauqua performances here in Gainesville."

The series is based on the Indian Removal Act period during the 1830s. People will portray important figures from the time period — Cherokee Chief John Ross, Choctaw Chief Greenwood LeFlore and President Andrew Jackson — telling their story and interacting with the audience as they ask questions. Remaining shows are set for 7 p.m. July 9 and Aug. 13 at the Northeast Georgia History Center. Tickets are $6 or free for museum members.
"We're combining education and entertainment in a way that we hope, and seems to be, very engaging," said Johnston, who will portray Andrew Jackson on Aug. 13. "This is a way to get things directly to the people and forge a connection with this person from the past."
Chautauqua shows began in New York in the late 19th century around the Chautauqua Lake and grew so popular that they spread across the United States "bringing speakers, musicians, specialists, shows and other educational entertainment to rural American communities," according to the history center.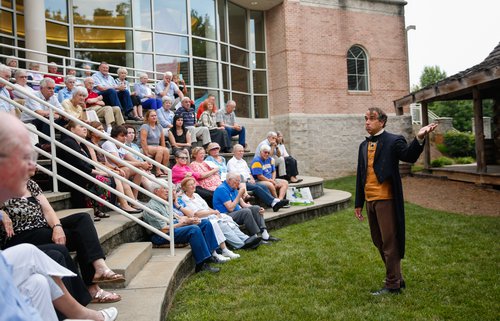 One of those rural communities included Gainesville, where one was held annually on the Brenau University campus for nearly two decades beginning in 1897.
"There wasn't radio, there wasn't TV," Johnston said. "Audiences went to see live performances of some sort … It's kind of cool that here we are in the 21st century digital age, still having a type of programming like chautauqua that appeals to a general interest audience. And we're definitely seeing that again here in Gainesville."
Johnston said the history center wanted to bring chautauqua-type shows back for a simple reason: they worked. People were interested in learning about history while being entertained at the same time.
Each person portraying one of the figures from the Indian Removal Act period stays in character for the entire show so guests feel as if they're learning from the real person.
John Ross, whose portrayal has already passed, was done because he was the Cherokee chief during that time period.
Greenwood LeFlore, whose portrayal will be July 9, was the Choctaw leader during that time period and saw things differently than Ross did. Johnston is hoping guests will learn from and be interested in the differences.
"We wanted to showcase two different Native Americans who, on the surface, might have a lot in common but chose two very different routes to deal with the Indian Removal Act," Johnston said. "So it's a nice diversity of stories."
The portrayal of Andrew Jackson, who was the president at the time, will round the series out. Johnston said Jackson was "the driving force" behind the Indian Removal Act, so hearing his story will give yet another side of the story.
"Hopefully with that story arch, our audience will come away with a more full understanding of just how complicated the mechanism of removal was," Johnston said.