The Lanier Chamber Singers celebrated its 30th anniversary with a "Sounds of the 60s" concert Oct. 9 featuring tunes from the Beatles, the Beach Boys, Simon and Garfunkel, Neil Diamond, the Mamas and the Papas and other hits from the decade. 
Founded in 1991, Lee Bratton, then director of choral activities at Brenau University, and Keith Jefcoat, longtime director of the Brenau Preparatory School, had a dream of establishing a superb singing group made up of choral directors, individuals with music degrees and finer singers and promoting outstanding choral singing in northeast Georgia.
In the beginning, the choral ensemble focused on performing a cappella literature from the Renaissance period through the 20th century under the title "Lanier Singers."
The group's name was changed to the Lanier Chamber Singers in the early 2000s. 
"By adding the word chamber, that distinguishes us as a smaller select group of singers, because we've always been a fairly small group," Jefcoat said, 
Today, the group is led by artistic director and conductor John LaForge, who was appointed to the position in 2017. LaForge is the seventh musical director in the organization's history.
Thirty-four members are currently on its roster, ranging in age from their early 20s to their mid-70s, up from as few as a dozen in its early years.
"It's a great thing to have a group that is intergenerational," LaForge said. "It demonstrates how we can continue to be involved in music throughout our lives and the LCS is a great example of lifelong singing and lifelong musicians and musicianship."
According to LaForge, some of the singers live in Gainesville and Dahlonega, while others travel from as far as Fulton County to be a part of the group. 
"We live in a community that has a rich cultural heritage in music, fine arts and theater, and we (the Lanier Chamber Singers) are … one of those groups that I believe adds a lot to the community, and our music is a high level of performance," LaForge said.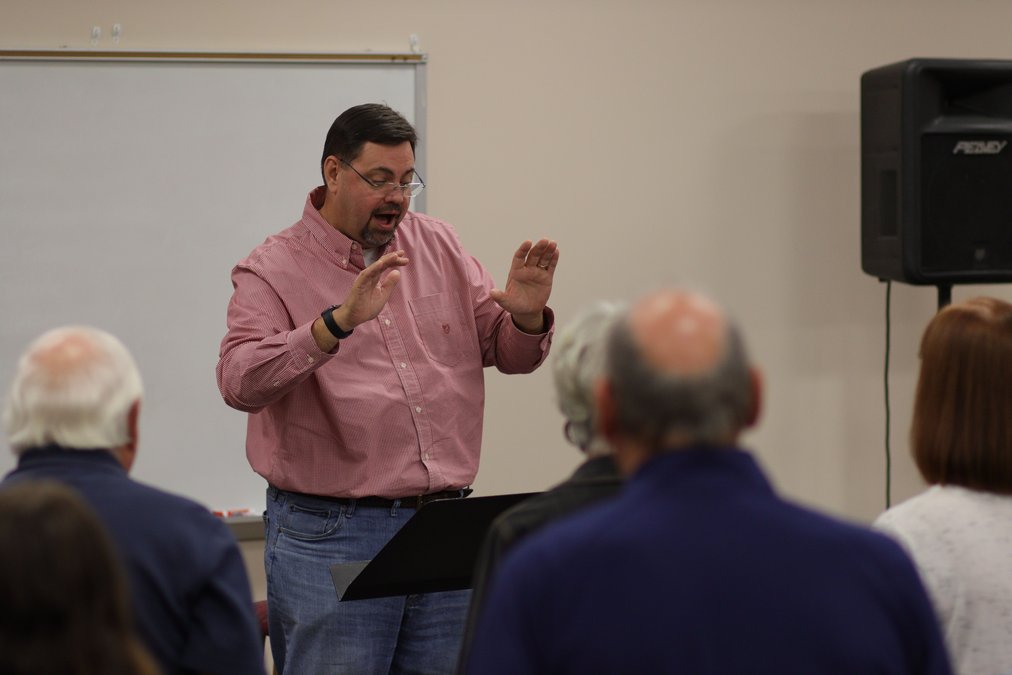 The Lanier Chamber Singers host four concerts each season with different styles of music. 
"We sing a variety of music — everything from classic classical masterworks for chorus and concerts to music that is popular in nature," LaForge said.  
As Jefcoat looks back on the Lanier Chamber Singers' 30 years, he said that his most memorable event was the Regional American Choral Directors Association Convention in Memphis, Tennessee, in 2010. 
"In the choral world, it's a big deal and honor to be asked to sing because you have to submit a recording and compete with many other groups, and to be chosen to sing at that convention," said Jefcoat. "I think that was one of our high points, of our long and rich history."
The ensemble's long, rich history includes performances at the Centennial Olympic Games in Atlanta in 1996, the Georgia State Conference of the American Choral Directors Association in 1997, 2001 and 2013, the ACDA Southern Region Conference in 2006 and 2010, the Emory Community Choral Festival in 2013, and the Piccolo Spoleto Festival in Charleston, South Carolina, in 2014.
"Each director has brought his or her special gifts and graces to the group, and they've brought the group to new heights," said Jefcoat. "Just the camaraderie of being around well-trained singers who are used to really working hard and achieving high and lofty goals has been a pleasure."
The Lanier Chamber Singers hold auditions at various times throughout the year and invite singers to join. 
For more information about the organization and upcoming performances, visit
lanierchambersingers.org
.