Hundreds of lanterns will glitter under the evening sky this October in Gainesville's first Lanier Lantern Festival.
Intended to promote unity and peace, the festival aims to bring thousands of people to the Lake Lanier Olympic Park to release candlelit, rice paper lanterns from the shores of the lake.
"The whole meaning behind releasing lanterns, whether it's the lanterns you release in the sky or on the water, it's all about positivity, about remembering, about rejoicing, about releasing," said Dannella Burnett, owner of Encore Elite Events and the organizer of the festival.
While this is not explicitly a religious event, Burnett hopes attendees can find their own meaning, within it -- whether religious, spiritual or otherwise.
"I just think we need some more love in the world," Burnett said.
Lanier Lantern Festival
When: 4-10 p.m. Saturday, Oct. 6
Where: Lake Lanier Olympic Park, 3105 Clarks Bridge Road, Gainesville
How much:
$20 Adults, $8 children (4-12 years old), free under 4
The Oct. 6 festival includes a packed schedule, with retail vendors, a craft tent for kids, food trucks and live music.

Live entertainment will include DJ JB Jams, magician Jeff McClure, comedian Marvin Lee, and singers Starr Phipps, Stephie Rae and Tenette Smith. Rapunzel and her endless locks will be in attendance for the festival (so bring the kiddos).
Food can be bought from Sherry's Bait and Barbecue, Cabaki's Catering, Kona Ice, Great American Cookies and Marble Slab Creamery, OBA! Brazilian Cuisine, ZiL Catering, Juke N Jive Creamery and Seven Seas Mediterranean Cafe. There will also be a cash bar with beer, wine and mixed Drinks
There will also be retail vendors: Goodmorning Glitter Boutique, Pure Romance, Origami Owl, Paparazzi Accessories, Ciaro Insurance Group, Mary Kay and AT&T.
For those worried about effects on Lake Lanier, Burnett emphasized the importance of using biodegradable lanterns specifically made for this kind of event. The lanterns will be picked up after their candles extinguish, but if any are left behind, they'll dissolve.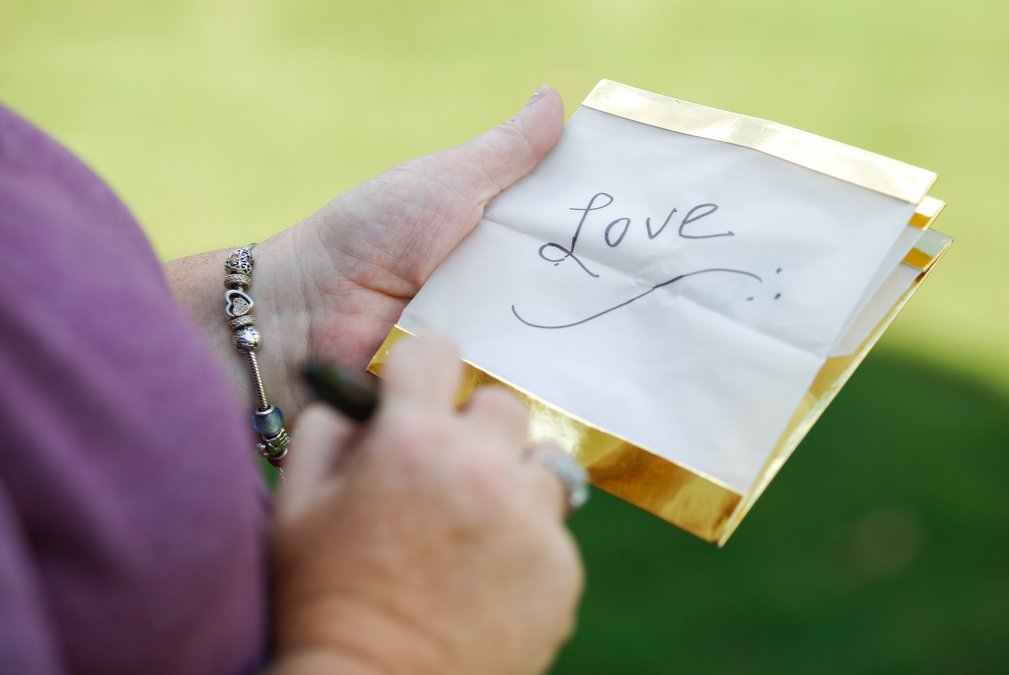 "We're not looking to trash the lake," Burnett said.
A portion of the proceeds from the night will go to Sober and Stoked, an addiction recovery program, and to Gainesville's own Interactive Neighborhood for Kids. INK suffered damage due to flooding at the beginning of the month and the group is still cleaning and preparing for new exhibits. The donation from the festival will help rebuild the museum.
"It's just incredible to see the impact over 16 years and that because of the continued support from the community, this is not going to be the end of INK. We will come back stronger, so that's the exciting part," Mandy Volpe, executive director of INK, said.
The October festival has already attracted a huge amount of attention online, where some 21,000 people have expressed interest in going on the event's Facebook page. Tickets range from free for children under 4 to $20 for adults and are available online.
For the first year, organizers are going to limit the number of guests to 2,000, but they hope to see growth in the near future.
"It is something new and different so we are keeping it small enough so it's manageable. But I would love to see this really grow and be one of those don't-miss-this-event-during-the-year events," Burnett said.