One of the milestones in Hall County's 200-year history was the construction of the Georgia Mountains Center on Main Street in Gainesville. While it never eventually lived up to its promise and intended purpose, it is today a vibrant and important component to downtown Gainesville as home to Brenau University.
The center opened with the Northeast Georgia Industrial Fair in January 1980. It was sponsored by what was then called the Gainesville Area Chamber of Commerce and billed as the largest event of its kind in the history of the area.
Miss Georgia, Miss Georgia Teen, Miss Georgia Holiday, Miss Brenau and the Atlanta Falcons cheerleaders were featured for the grand opening. Gainesville Chorale and Gainesville Ballet also performed.
Among early events scheduled at the Mountains Center was the Royal Lipizzan Stallions of Vienna, which became a popular regular feature over the years. Gospel singings were big with the first one featuring the Kingsmen, Florida Boys and Rex Nelon Singers. Advance tickets were only $5.

Those fortunate enough to see the first play in the theater remember "Hello, Dolly!" as one of the most elaborate and finest musical productions ever presented in Gainesville to that point. Actor Rod Cameron, who had moved to the area during this time, played a role in the Gainesville-Brenau College production. The legendary Ed Cabell, at Gainesville Junior College at the time, was the play's director.

Various civic clubs and other organizations tried out the center for their meetings, but many eventually went elsewhere. Various entertainers performed over the years, including Waylon Jennings, Bob Dylan, Mel Tillis and Ray Charles, but despite their star status sometimes many arena seats were left empty. Wrestling, rodeos and local events such as the Service League's annual Thrift Sale and prayer services were popular and well attended.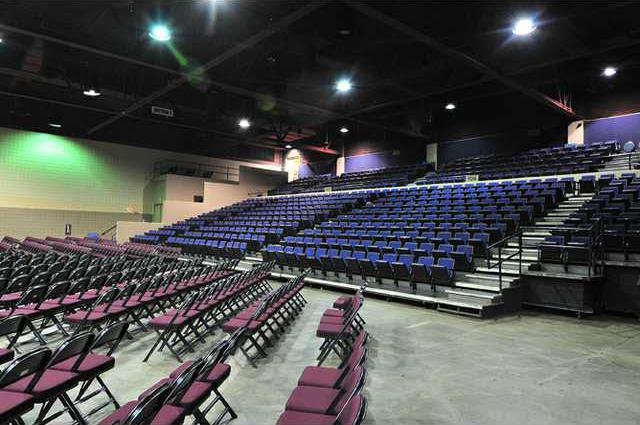 Gainesville taxpayers had to ante up $92,200 for the first six months of the center's operation. The Mountains Center was expected to pay for itself, perhaps even make a profit, but critics called it a "white elephant," falling short of expectations, eventually resulting in Brenau University taking over the site. 

The center's goal was to revitalize downtown Gainesville, drawing conventions and other events. In its first phases, the name was "Georgia Mountains Business Center." Some small conventions, exhibitions and periodic gatherings of religious organizations did take place.
When the Mountains Center was proposed, downtown businesses had declined with more than 20 vacant buildings in the late 1970s. The center not only was to stimulate business in central Gainesville, it also would provide more parking with its parking deck. The parking deck is being expanded today with new construction and planned development coming about. 
While there are some vacant buildings downtown, the area has changed with a variety of businesses making it an attractive place to hang out. A couple of huge construction projects are expected to make the central business district even more alive.
Bark Camp district is in the northwest part of Hall County. Its name is said to be derived from an Indian camp on the nearby Chestatee River with houses constructed of tree bark. 
The Whelchel District in north Hall County supposedly was named for John and Davis Whelchel, pioneers who settled on Little River. 
In the early years of it formation, Hall County had four post offices. One was in Gainesville, others in Reeves, Chestnut Hill and Winn's. Chestnut Hill grew into a mountain, and Winn's was a ferry crossing on the Federal Road crossing the Chattahoochee River. Winn's originally was operated by James Vann, a Cherokee Indian chief who also operated a tavern nearby.
When R.E. Green took over Gainesville's street car system from its originator, W.C. Whetstone, he advertised it as having "four wheels, no brakes, two good mules and a bell thrown in." The first street cars in Gainesville were pulled by mule power before converting to electric after Dunlap Dam on the Chattahoochee River was built to generate electric power. 
Green Street is supposedly named for R.E. Green, an early entrepreneur.
Look for more local history in observance of Hall County's bicentennial next week.
Johnny Vardeman is retired editor of The Times whose columns appear Sundays. He can be reached at 2183 Pine Tree Circle N.E., Gainesville, GA 30501; e-mail.