United Methodists are now divided Methodists, as the church wrestles with a polarizing vote Feb. 26 over sexual orientation.
A schism in the nation's second-largest Protestant denomination is feared as church members are still trying to process a vote taken by delegates at the United Methodist Church special conference in St. Louis to strengthen the church's bans on same-sex marriage and ordination of LGBT clergy.
"Regardless of our cultural differences, everyone has opportunities to actively show the love of Christ in our denomination," said the Rev. Bryan Smith, lead pastor at Redwine United Methodist Church in South Hall.
"However, our greatest asset is now our greatest liability. The issue of human sexuality is currently dividing us deeply."
Passage of the Traditional Plan came after delegates from across the world voted down the One Church Plan, which would have allowed churches and pastors to make decisions based on their specific congregations and conferences.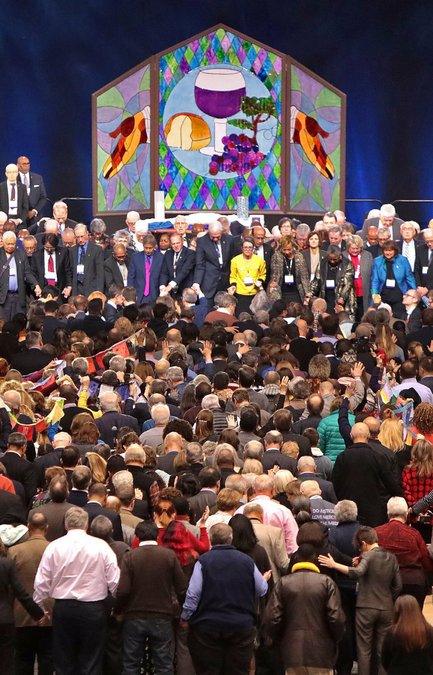 That would have meant that United Methodist pastors could — but weren't required to — perform same-sex marriages. And marriages could not be performed in the church unless the congregation voted to approve them before the first ceremony.
The emotionally charged vote has produced a wide range of reactions, as the church is a spectrum of conservative, moderate and liberal voices.
Brian Funderburke, pastor-in-charge at Trinity United Methodist Church in Clermont, had hoped the One Church Plan would pass "because it gave room for pastors and churches to live according to their convictions on this issue, rather than being forced one way or the other."
The Rev. Geoff Grubbs, who leads St. Paul United Methodist Church on Washington Street in Gainesville, took a more moderate position.
Want to hear how this story came together?
Listen to ep. 29 of Inside The Times podcast, where editors and reporters give a behind-the-scenes look at stories of the day.
"My job is not to scold or judge or tell anybody they're right or wrong," he said. "I've got to be honest — this is like any other debate. The right of it is probably somewhere in between both (arguments)."

The conservative Wesleyan Covenant Association released a statement Thursday, Feb. 28, that said it is "thankful the United Methodist Church has reaffirmed its sexual ethics, teachings on marriage and its ordination standards for clergy."
"To that end, we remain open to good faith conversations about the future of the church," according to the statement. "We recognize irreconcilable differences exist, not just about human sexuality, but also around our understanding of the authority and interpretation of Scripture, and the nature of the church."
The group goes on to say it's committed to "working with other United Methodists to achieve that end at the next General Conference in 2020, including a gracious exit provision. And should circumstances warrant, we remain prepared to launch a new Methodist movement."
The North Georgia Conference, which includes the Gainesville District, one of 12 regional bodies, didn't promote any particular plan but "instead focused on unity in Christ," communications director Sybil Davidson had said.
However, Bishop Sue Haupert-Johnson said in a videotaped statement following the conference on the North Georgia Conference website that she had hoped the One Church Plan would have passed.
"It would have really been a uniting force in the life of the church and given us a bigger vision," she said. "I'm sad about that, but it's not all about me."
She said the Traditional Plan was found to violate parts of the church's constitution, "so it does not have the teeth or penalties that a lot of people wanted in it, so that continues to be in flux."
The issue certainly has been divisive among members, and the fallout is still unclear.
Wayne Stradley, a Gainesville resident and member of Gainesville First United Methodist who has said he welcomes lesbian friends "to our church but not on the pulpit," encouraged fellow Methodists to apply the brakes.
"It is time for every Methodist to take a deep breath and remain calm," he said, noting that the denomination's Judicial Council is reviewing the Traditional Plan at a meeting starting April 23.
Ron Winkowski, also of GFUMC, said Methodists "have affirmed our belief by the outcome of the vote. I know we will do our best to maintain the unity of the Methodist Church, God's church, but if some people cannot accept this ruling, I hope and pray there is a 'gracious exit.'"
John Darden, who has been at GFUMC since 1976, supported the One Church Plan.
"I felt like, through (that plan), the church could hold together," he said.
Looking ahead, "we're going to depend on the leadership within our church to hold us together, and I would like to be able to see (that happen)," Darden said.
Another GFUMC member, Lee Highsmith, said she believed the One Church Plan "was gracious to both conservatives and liberals."
"The United Methodist Church has lots of work to do as we move into the future," she said.
The Traditional Plan, approved by a vote of 438-384, had support largely from conservatives from the U.S. and overseas. About 43 percent of the delegates were from abroad, mostly from Africa, and overwhelmingly supported the LGBT bans.
If the bans were eased, "the church in Africa would cease to exist," said the Rev. Jerry Kulah of Liberia. "We can't do anything but to support the Traditional Plan — it is the biblical plan."
On the other hand, the vote crushed supporters of the One Church Plan. At the conference, some supporters of greater LGBT inclusion were in tears.
Haupert-Johnson said that, for her, the conference ended "with a sadness at the division that we have as humans … about how our sinfulness breaks us from one another, but also a new commitment to focusing on what unites us.
"What I'm most empowered by is how do I have a church to hand off to my daughter, to your children, to your grandchildren?" she said.
Morgan Wood, another Gainesville First member, called the church division "heartbreaking."
"But God heals people through people," she said. "I believe no matter what the vote had been (Tuesday), we as believers still have to hold steadfast to what we've been called to do: Love God and love all people. That will never change."
The Associated Press contributed to this report.