Will Schofield, Hall County Schools' superintendent, scrunched up his face as he laid a kiss on the nose of a pink pig on Thursday, Nov. 21. 
It's not every day Schofield kisses a pig, but Thursday marked a special day for students at Tadmore Elementary School in Gillsville. 
Starting in November, the students of Tadmore Elementary School in Gillsville filled 16 barrels of non-perishable food for the Salvation Army's Can-A-Thon. This amount doubled Tadmore's record of eight barrels. 
Before collecting cans, Robin Gower, Tadmore's principal, Judith Mancuso, assistant principal and Brandon Brock, the school's counselor, made a promise to their students. If the kids filled a certain amount of barrels with food, they would each kiss a pig. 
The students caught the attention of Schofield when they surpassed their original goal of 10 barrels. He decided to show his appreciation by joining the pig-kissing festivities.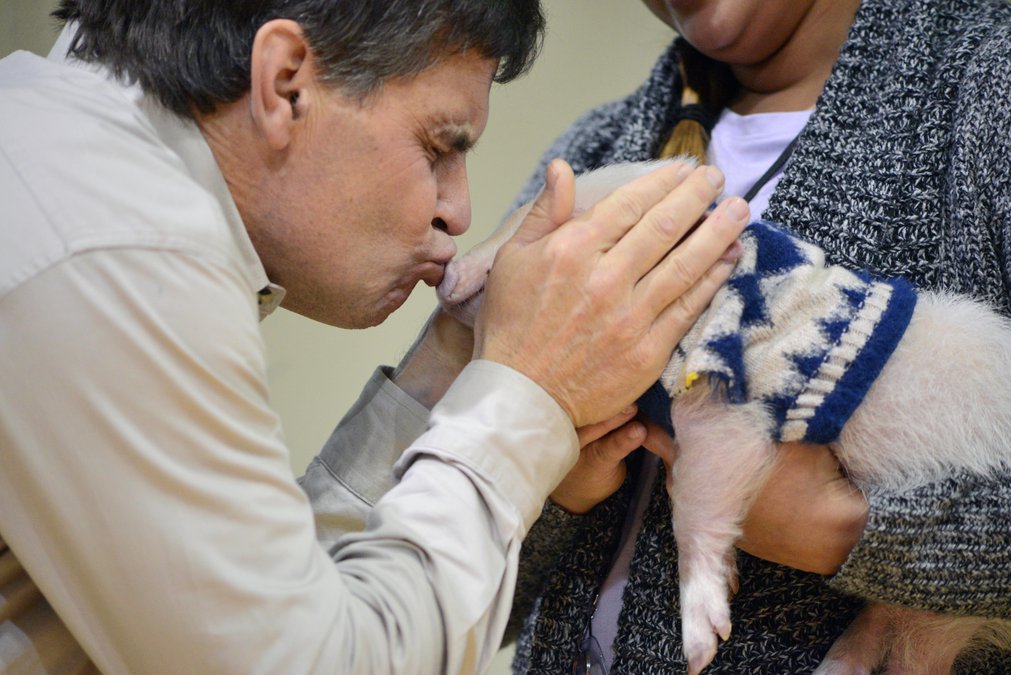 Children squealed with laughter after each adult reluctantly walked up and kissed the tiny sweater-clad pig. 
"I could not be prouder of you for sacrificing non-perishable food so someone could have food on Thanksgiving or Christmas," Gower said before the children. "That makes my heart very proud."
At the Title I school, Gower said 94% of her students qualify for free lunches. 
"A lot of children and their families may end up going to the Salvation Army to get food, and they gave knowing that," she said. 
While looking in each of the children's eyes, Schofield encouraged them to continue being givers. He thanked them for doing the right thing and helping make Hall "the most caring place on Earth."