Blue, a massive great Pyrenees dog, walked a couple of steps and flopped down at the University of North Georgia Gainesville campus's student center on Wednesday, Dec. 4. Within seconds, a group of students swarmed around him, giving him praise and belly rubs.

"It's a good break from all the studying we have to do," Mariela Calderon, a junior at UNG, said. "It's nice to just be able to get your mind off of studying and finals that we have next week."
Blue and the other five dogs from Happy Tails were on therapy duty, helping students pause during their hectic pre-finals week.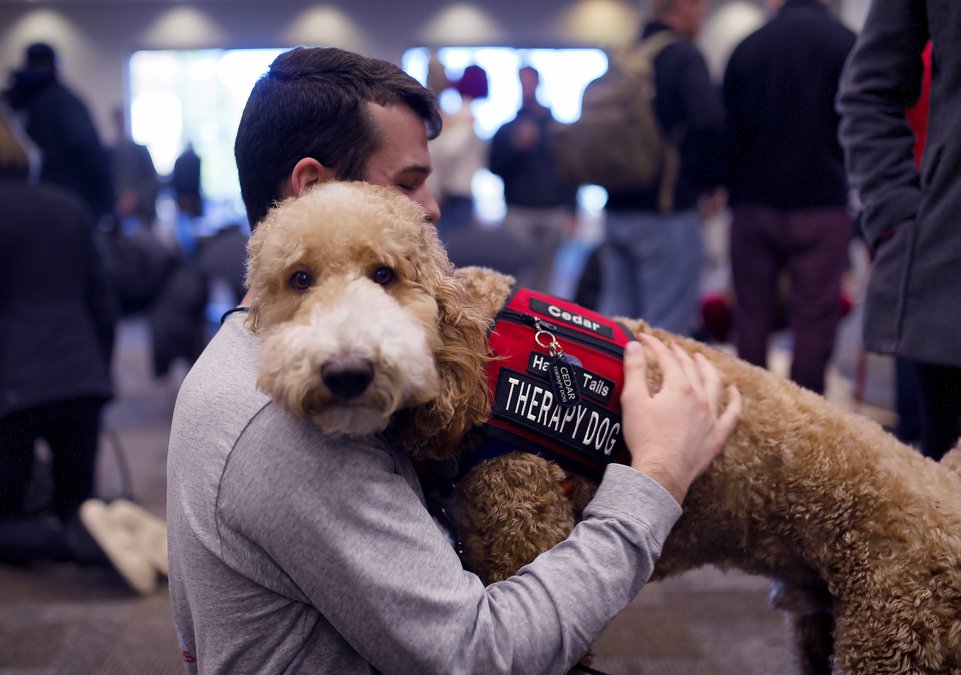 Happy Tails, an organization of therapy dog owners, has been visiting UNG for the past five years.

Emily Bennett, who is a member of the local Happy Tails group, describes therapy dogs as canines who bring joy to many people. Contrarily, she said service dogs work for one person.
"He is for others," Bennett said while watching a student hug her dog Cedar. "He loves being loved."
Bringing therapy dogs to dozens of stressed students has more of an effect than most might think, according to Kel Lee Cutrell, UNG Gainesville's associate director of student counseling.
Cutrell spent a year studying animal psychotherapy and has witnessed the mental changes people experience during and after brief contact with dogs. 
When the students pet the dogs, she said their oxytocin begins to increase. Cutrell likes to call oxytocin the "cuddle hormone," which imparts a feeling of being loved and safe.
As oxytocin levels go up, she said cortisol levels, the stress hormone, go down. 

The positive effect of petting a dog can filter into the rest of a student's day.
"The actual hormone will last for 24 hours as it slowly decreases," Cutrell said. "The mental effects of doing that can last for days. Even the memory of petting the dog will increase oxytocin."
Christy Morrison, team leader of the local Happy Tails group and UNG administrative assistant, not only uses therapy dogs on university campuses, but brings them to hospitals, assisted living homes and other places in need of their support. 
She recently started visiting The Cottage, a sexual assault and children's advocacy center in Athens, with her dog Snoopy. Morrison said she will never forget the time she met with a group of children there. 
The children had the choice to share their personal stories with the other kids. One girl said she didn't want to tell her story. 
Moments later Snoopy jumped up on the couch and put her head in the girl's lap. 
"She said, 'I can tell my story now,'" Morrison recounted. "Things like that make me do this for 11 years. The impact that the dogs have on people, you can't measure that."