Parkside on the Square, a multi-use project in downtown Gainesville that would have filled the vacant "fourth side of the square," is no more.

After more than 2 years of trying to develop the project off Spring and Main streets, final talks broke down in May between the developer, the contractor and lender.
Rising costs in the project didn't help, although much of that was brought on through upgrades by the developer. The project jumped from $17 million to $22 million.
In the end, "we were over $1 million from where we thought we were going to be," said Tim Knight, who, with two other partners, was developing the project. "So, week before last, we just finally realized this is not going to work."
"To say we're disappointed is an understatement," he told The Times on Thursday, June 6. "We wanted to build a really nice project for Gainesville."
The property is currently owned by Carter Family Properties. Doug Carter said Thursday that the property was under contract with Doug Ivester, former chairman of Coca-Cola Co., New Holland native and a local philanthropist.
Fred Roddy, a spokesman for Ivester, said closing on the property is expected within 30 days. Ivester and his advisers will look at options "with the objective of developing the site to complement the efforts of the city and the downtown neighbors."

An exact plan for the property has not been determined yet, Roddy said. But he said Ivester is a Gainesville local who has a "keen interest in participating in the revitalization of downtown Gainesville."
The Parkside developers were planning a five-story building on a half-acre lot facing Spring Street, with 15,000 square feet of retail on the first floor and 32 luxury condominiums filling the remaining four floors.
They had pre-sold 17 of 32 units valued at $8.7 million, receiving $1.3 million in deposits. And about 60 percent of the retail space had been pre-leased to La Parrilla Cantina, Kilwins confectionary shop and Tropical Smoothie Café.
"Last week, we contacted all 17 of our buyers … and returned their deposits with interest," Knight said.

He said he was in the process of notifying the retail tenants.
"I've got to go back to those retailers and say, 'Look, we're not going to move forward with it. If the new buyer does something, I'll help you work out a deal with them, or I'll help you find another space or whatever you want me to do,'" Knight said.
Like Knight, Gainesville Mayor Danny Dunagan said he was disappointed the project didn't come to fruition.
"We were hoping they could pull this together and get it done," he said.
Dunagan also is hopeful.
"Something will go there. It's a prime location," he said.
The disappointment and frustration was echoed by other city leaders.
"From the city standpoint, we had a lot of man hours involved," City Manager Bryan Lackey said. "It's not our property and it's not our deal, but obviously we were associated with it, trying to make it happen."
Councilman Sam Couvillon said Parkside was presented to the public as a "premier development for downtown and (we) hoped it would kickstart development leading to great things in midtown."
The project was tied to the city of Gainesville through the midtown tax allocation district, a designated area in which increments in property taxes resulting from new development and growth are reinvested to finance such projects.
Parkside hinged on collecting nearly $2.5 million in reimbursements for construction costs, funding that would have accounted for 12 percent of the total project cost.
"We simply cannot (build) without the TAD," Knight said in January 2018.
But despite the city signing off on the project's plans and committing to help publicly finance Parkside, the property was never actually sold to Knight and his team.
Moreover, the TAD financing drew scrutiny when it was approved in early 2018.
The city hired the Bleakly Advisory Group, based in Atlanta, to provide an independent analysis of projects seeking tax subsidies (in this case, TAD financing) to ensure the requests met established guidelines.
However, that same firm worked for Parkside's developers to prepare and submit the proposal for TAD financing.
Anticipating downtown growth, the city used the TAD program for the expansion of the 180-space Main Street parking deck — a project that would have provided access to Parkside.
In another nearby project, Carroll Daniel Construction hopes to relocate this September to a new 60,000-square-foot headquarters building featuring first-floor retail and office space. The building is off Main Street between Jesse Jewell Parkway and Broad Street.
"As I've told everyone, we had to have at least one of those two projects move forward before we started on our deck expansion," Lackey said.
"The TAD funding that would have gone toward the parking deck off the Parkside project was several years out and would have helped offset the deck costs," he added. "But we have it in the budget to handle the deck, so that's not something we're concerned about on that end."
Expansions are funded by $1.5 million in TAD funding that will be used to pay a $4.7-million bond with Regions Bank approved by the City Council in July 2018.
"The TAD part for the deck was covered through the Carroll Daniel agreement," Lackey said. "It would have been nice to have had the extra funds available off (Parkside) to go toward whatever debt was left on the parking deck."
Looking ahead, he said, "we'll be back working with the Carter family on whatever they need from us. I think we've shown that we're willing to work with a developer that has a quality product they want to bring into the site."
Parkside and the Carroll Daniel projects were two of three major projects expected to inject about $53 million in downtown announced by the city in May 2017 .

Knight, who had previously developed North Lake Square off Dawsonville Highway, also had planned to invest another $25 million at the old Greater South lot at Jesse Jewell and Maple Street.
The project included 30,000 square feet of street-level retail and restaurant space with about 150 market-rate apartments for rent above.
The Gainesville City Council voted in February to release Knight's option to buy the 1.7-acre property at Jesse Jewell Parkway and West Academy Street. Knight said at the time he hoped to dedicate his time to developing Parkside.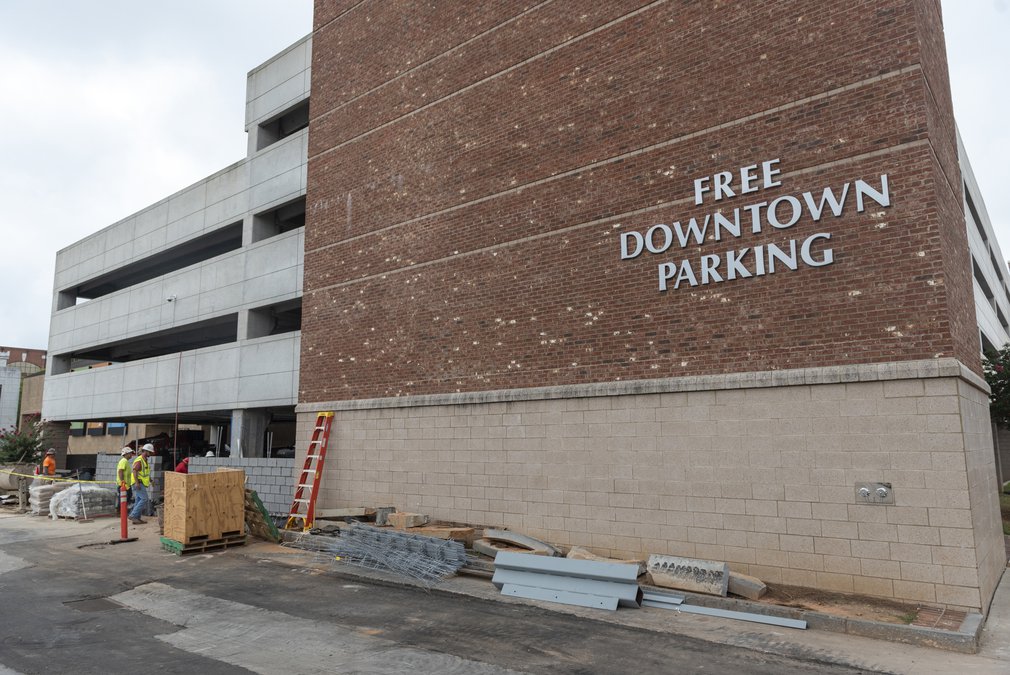 Frank Norton Jr., CEO of The Norton Agency, said he was also disappointed that the development fell through.
"It would have been a really good shot in the arm, a continuous shot in the arm for downtown," he said.
There is a demand for housing in downtown Gainesville, he said.
"Town squares are all becoming important to the vibrancy of communities across the state," Norton said. "... Downtown squares are becoming the centerpoint of a community once again, and so the more folks we have living within I'd say, a half a mile, walking distance to downtown, helps with that vibrancy of that square."
Norton said he trusted Ivester to be a "good steward" of the property.
For Councilman Zack Thompson, who called negotiations and plans for the Parkside development a "colossal waste of time," it's frustrating for city officials when "developers bring projects tied up with a bow and at the final hours things change," or the project dies altogether.

"I think the free market is going to determine what comes to the fourth side of the square," Thompson added.
But city taxpayers will retain a stake in the next project proposed for the site if TAD financing is sought
Councilman George Wangemann said Parkside's flop has city officials reconsidering their next steps.

"I think there's always going to be lessons learned from experiences like this," he added. "No project goes perfectly well, for anyone. There's always little bumps in the road, changes are made. You've got to work those out."
Reporters Megan Reed and Joshua Silavent also contributed to this report.