Whether a concert on the Gainesville square or an event at Lake Lanier Olympic Park, most people can count on beer trucks showing up ready to pour.

Two beer trucks dominate the scene in Hall County — Tap It's Hoptimus Prime and Downtown Drafts' Brews Cruiser.
Since opening on Thompson Bridge Road in 2014, Tap It has transported its beer throughout Hall County and surrounding counties.
Jim Tortorelli, co-owner of Tap It, said customers use the vehicle for weddings, festivals, parties and corporate events.
Hoptimus Prime served drinks at the Gainesville Spring Chicken Festival and turned out to Vision 2030's block pARTY on Friday, May 10. The truck is also a regular at Lake Lanier Olympic Park's Food Truck Friday events.
"They're easy and friendly, and all of the customers love them," Robyn Lynch, executive director of Lake Lanier Olympic Park said. "If we want something specific, they'll work with us."
Tortorelli said his Hoptimus Prime has served up to 2,000 people. The minimum amount it accommodates is 60 people.

While Tap It offers a 42-page list of beer, wine, cider and mead choices for events, Tortorelli said he also takes requests for beverages not on the menu. He recently brought the truck to Helen for an event that only poured German beer.
Tap It earns around one-third of its revenue from its beer truck. However, in the next couple of years, Tortorelli said he aims to make the amount 50/50 between the store and Hoptimus Prime.
He plans to have four business locations in the next three years.
When offering the beer truck services, Tortorelli said the dispersion of profits differs from event to event. While some accept a donation, others may ask for a percentage of the sale.
Downtown Draft's Brews Cruiser is new to the beer truck scene, making its first appearance on April 13 at the Fly Betty concert on the square.
Aimee and Nick Hoecker, co-owners of Downtown Drafts, said they decided to start up a beer truck to deliver their products offsite.
"We're just out of space, and there's not a whole lot we can do to fit more people in here," Aimee Hoecker said. "We want to make downtown drafts mobile and do something cool, different and eye-catching."
Although the Brews Cruiser can only serve events in Hall County, the two aim to eventually expand to other counties. Aimee Hoecker said the Brews Cruiser can typically serve 60-600 people, but she can go higher or lower upon request.
Aimee Hoecker said people have the choice among all craft beer and wine made throughout Georgia. They also provide international beer options and can set up a "build-your-own-mimosa" bar.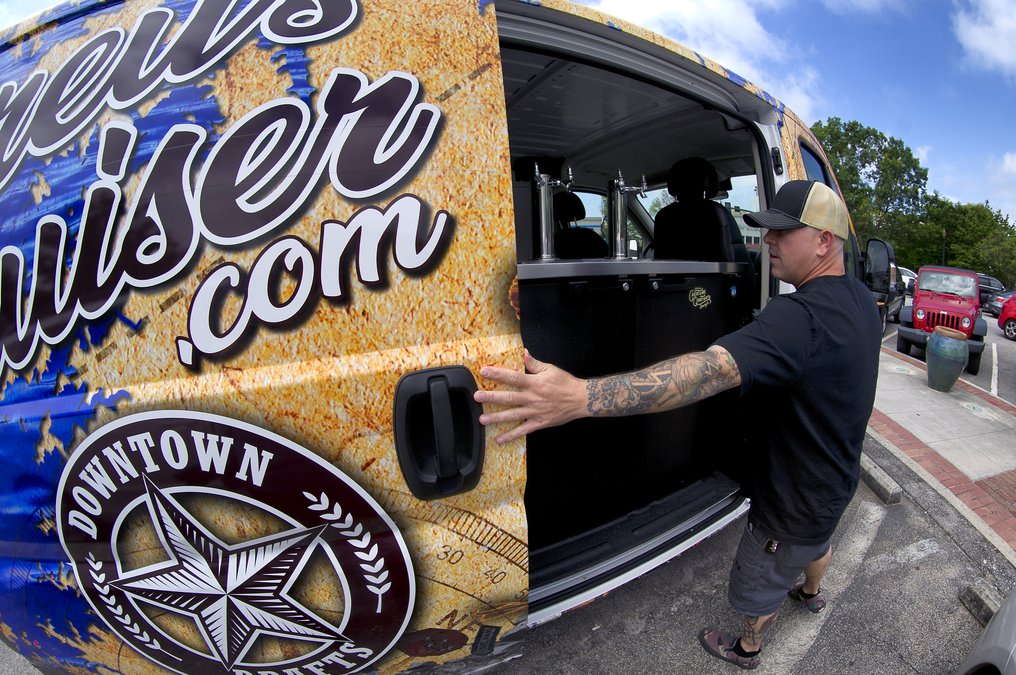 Nick Hoecker said one of the convenient aspects of the Brews Cruiser is its ability to pour cold beer, no matter the outside temperature. The beer remains at a constant 34 degrees.
When brainstorming the design of the vehicle, Aimee Hoecker said she wanted to create a look that "screams beer, community and fun."
Maps of Lake Lanier, clips of newspaper articles and symbols authentic to Gainesville cover the Brews Cruiser. People can find the 1950 story of the construction of Lake Lanier, a piece about the history of the Gainesville Speedway and the tale of the mysterious "Lady of the Lake."
Images of tombstones, houses and churches line the bottom of the vehicle, representing what lies under Lake Lanier.
Tortorelli said he isn't worried about the new Brews Cruiser taking away his customers and welcomes the competition. Through having another beer truck in Hall County, he said it helps build momentum for both businesses.
Whitney Brown, who helped organize Vision 2030's block pARTY on May 10, said she has enjoyed working with Tap It.

"In addition to being a fabulous vendor, they're also a sponsor," Brown said. "That's pretty fantastic."
Lynch, who works with Tap It nearly every month, said she's looking forward to adding Downtown Drafts' Brews Cruiser to Lake Lanier Olympic Park's events.
"We're absolutely open to the idea of working with them," she said. "We have enough events and we'd love to work with both of them."
For more information about Tap It and Hoptimus Prime call 678-897-3985 or visit tapitgrowler.com. To request Downtown Drafts' Brews Cruiser call 678-943-2165 or visit brewscruiser.com.