Like a draft of wind, the smell of lunch moves across the mess hall at the Senior Life Center in Gainesville on a recent afternoon, tickling the nostrils of dozens of hungry visitors.
So, when someone yells "Bingo!" it feels like an act of mercy to end the game and begin the feast.
This moment, however, captures what medical researchers have come to learn about how a good diet, regular exercise and an active brain can stave off the onset of dementia.
And this lesson is not lost on the Senior Center patrons, some of whom worry about the prospect of cognitive decline as they age.
10 ways to reduce your risk for dementia
Engage in regular cardiovascular exercise

Take formal educational classes (at any stage in life)

Quit smoking

Closely monitor obesity, high blood pressure and diabetes that can lead to strokes

Prevent head trauma by wearing safety helmets when engaging in recreation

Eat a diet low in fat and high in vegetable and fruit intake

Get enough sleep to ward off insomnia or apnea, which can produce memory loss

Manage stress, depression and other mental health issues with clinical treatment

Make new friends and socialize regularly

Participate in creative leisure, such as painting, doing puzzles or playing board games

Source: Alzheimer's Association

Memories lost, moments cherished
A series exploring dementia, how it affects our community and the resources available to those affected. Read other stories in the series.

"I've been doing a lot of praying about it," said Mary Bolden.

Her mother died last spring after suffering from dementia, and the grief still resonates in a way that has Bolden concerned about her own health.
Dementia is an umbrella designation for brain disorders, such as Alzheimer's, Parkinson's, Lewy bodies and Huntington's disease, and is typically characterized by severe memory loss and declining cognitive functions.
Bolden's mother experienced these common symptoms.
For example, Bolden said, her mother would forget she was cooking and leave the stove on, or rise early in the morning ready for a job she had retired from long ago.
But the most frightening moments occurred when her mother began forgetting how she was related to Bolden, showing nothing but a "blank expression" on her face.  
Bolden said she tries to stay physically and mentally active, regularly socializing at the Senior Center with friends and reading frequently.  
Research reveals that many of the things that keep our mind, body and spirit healthy through life are the same things that can potentially ward off dementia, memory loss and other cognitive decline in older age.
Studies have also shown that dementia is less common among the most educated and active individuals.
The Alzheimer's Association estimates that about 5.7 million people aged 65 and older have the disease, which is the sixth-leading cause of death in the United States today.
Whitney Wharton, a cognitive neuroscientist at Emory University in Atlanta, said genetic predispositions are common, but stress may also be a risk factor for some individuals.
"Stress does a lot of things to the body," Wharton said, such as affecting the quality and quantity of sleep a person gets, which itself can impair or improve cognition.
Moreover, African-Americans may be more likely to develop Alzheimer's or dementia than other races.   
Wharton describes her work as that of a "prevention scientist" focused on improving cognition in the elderly, for example, through daily exercise regimens, art programs to address agitation and controlling blood pressure with prescription medications.
Mayra Fernandez said her 92-year-old father, who lives in New York and suffers from dementia, has become louder and more anxious in his behavior with family.
Fernandez visited him within the last month and said he's showing signs of forgetfulness, such as misremembering Mayra's name.
"I said, 'Hi dad, how are you doing?'" Fernandez said. "It's your daughter."
Fernandez said it is "painful" to see her father deteriorate mentally, and it causes some consternation about whether dementia might afflict her one day.
Nath Ann Neal said her oldest uncle suffers from dementia.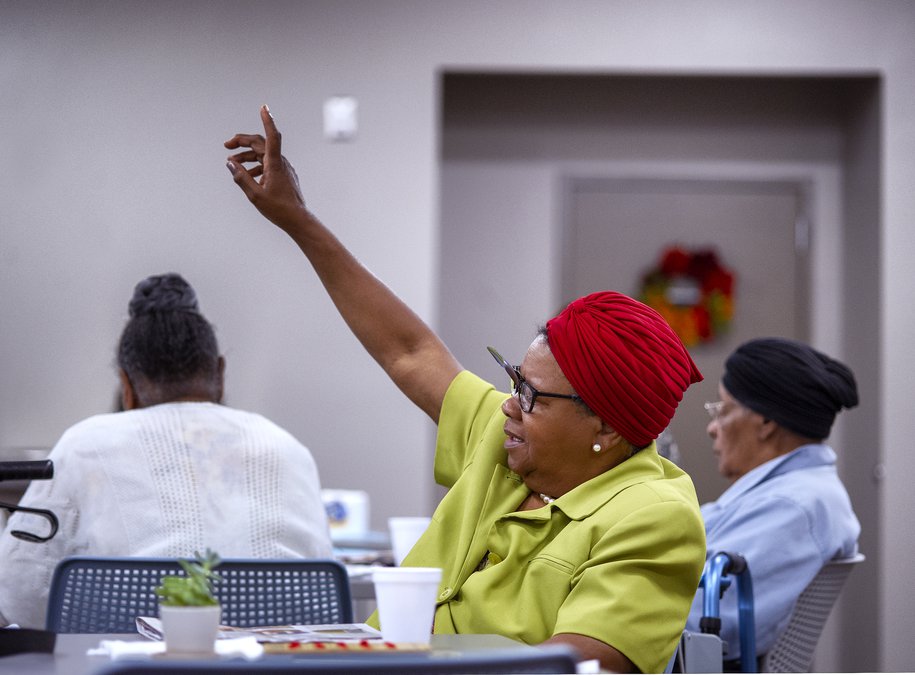 "He had the nurse thinking he was a doctor," she said. "He thought he was caring for us."
Barbara Dysart also had an uncle with dementia.
"He just started acting different," she said, adding that he would wander off, leaving loved ones in the dark about where he had strayed.
The mental decline brought on by dementia can be speedy. Dysart said her uncle died within two to three years of being diagnosed.
For others, the decline can be slow and steady, but no less trying for family members.
Barbara Dill, whose mother had Alzheimer's, said the loss of mental faculties can lead some individuals to engage in destructive and violent behavior.
Her mother, for example, became combative and tried to stab Dill's sister with a knife.
"She got so bad she was cared for at Emory (University)" she said, then later moved to a nursing home. "The doctor told us she could not go back home."
But Dill said she feels great and remains active in many ways, both physically and mentally. She's also been reassured by her doctor that her mind is functioning optimally.
"I don't feel that concerned that it may happen to me," Dill said. Fingers crossed.