Dry eyes were scarce during the March of Dimes Kickoff Luncheon on Tuesday, Feb. 19 at the Gainesville Civic Center.
Even Jerious Norwood, former Atlanta Falcons running back, couldn't help but shed tears when he shared his story of spending time at the neonatal intensive care unit and receiving the support of the March of Dimes team.
"You see me crying here," Norwood said. "You say, 'Well, look at that big old strong football player; he ain't supposed to be crying.' Well, guess what? The baby has got my heart. That's what's meaningful to me."
Norwood's son Jet was born three weeks early on Jan. 7, 2019. He said his son's heart rate was abnormally high and his body temperature ran low.
Norwood said he was a part of a March of Dimes team last year but now he has "really" become a part of the team. Teams raise money to help babies born prematurely.
Throughout the event, people made commitments to starting fundraising teams for the March of Dimes' annual charitable event, the March for Babies.
The local march is set to take place Saturday, April 27, at Longstreet Clinic at 725 Jesse Jewell Parkway in Gainesville.
What: Annual charitable walking event sponsored by March of Dimes
When: 8:30 a.m. Saturday, April 27
Where: Longstreet Clinic, 725 Jesse Jewell Parkway, Gainesville
One by one, parents stood in front of the luncheon crowd, expressing the impact the NICU and March of Dimes had on their children.

Abby and Ryan Burle of Gainesville spoke of their family's journey through many surgeries and setbacks in the NICU.
As the 2019 March of Dimes ambassadors for Hall County, the couple brought along their triplets — Maggie, Miller and Max — who were born 16 weeks early.
Maggie spent 142 days in the NICU, and Miller and Max stayed 158 days.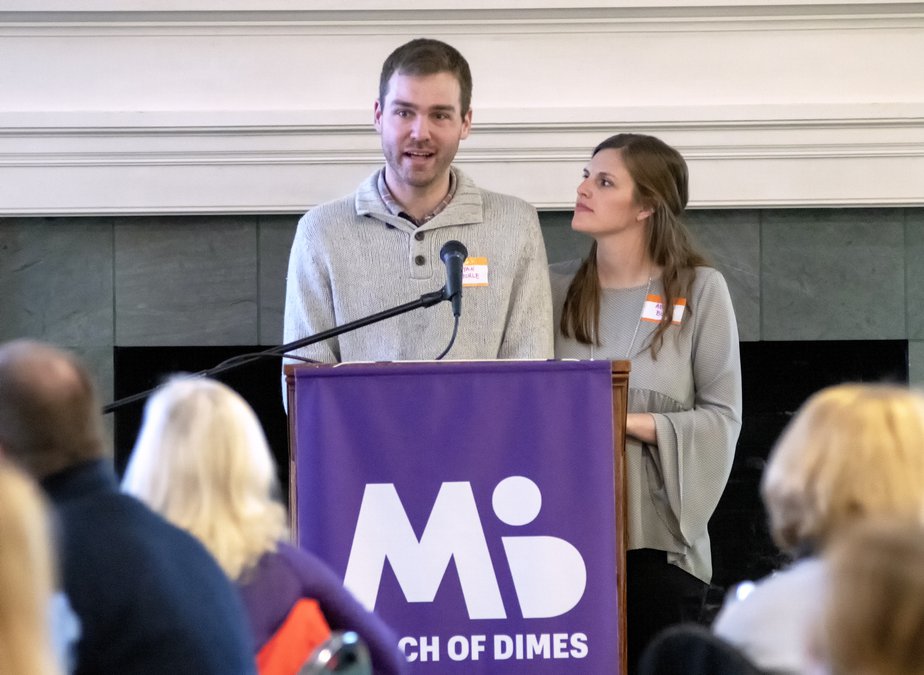 Abby said many describe the NICU as a rollercoaster. But she said contrary to a rollercoaster, no one waits in line and no one chooses a seat on this ride; it is thrust upon them.
"The closest I can get to understanding is a pitch black room, knowing there are obstacles throughout the whole room and not knowing the obstacles you're going to hit," Abby said. "And, you have one match. You hope it lights. That's what it feels like as a parent."
Never did she expect to have triplets, nor did she anticipate their early arrival. Abby said she received amazing prenatal care at Northeast Georgia Medical Center.
She expressed appreciation for Dr. Cynthia Cabrera, the hospital's neonatologist who has spent many years saving babies.  
"I learned a new level of desperation as a person and as a parent in a space where nothing I have is enough for my babies to be safe," she said through teary eyes. "That is why I'm thankful for people like Dr. Cabrera."
Abby said she decided to partner with March of Dimes because of its community support and awareness that is paving the path for prematurity. She believes her children are alive today because of the nonprofit's sponsored research and fundraising efforts.
Debbie Childress, development manager of the March of Dimes in Hall County, said the nonprofit's supporters gather money year-round to fight for the health of mothers and their babies. She said most of the fundraising for the March for Babies happens before the actual event.
She encourages people to donate to the March for Babies by visiting www.marchforbabies.org and selecting Hall County in the events tab.
For more information about March of Dimes in Hall County, contact Childress at dchildress@marchofdimes.org.