Nestled in the Northeast Georgia mountains, the city of Dahlonega brings in visitors year-round who are looking for a hometown feel.

"I think people say that we're 60 percent Mayberry and 40 percent Asheville," said Jan Harris, Downtown Development Authority director and Main Street program manager for Dahlonega. "Everybody's very friendly and welcoming, and it's not put on. I think it's marvelously catching."
The small town has developed this reputation in part because of its historic square. 
"It's easy for us to market just an authentic square that's got this downtown feel out of a Norman Rockwell picture," said Robb Nichols, president of the Dahlonega-Lumpkin County Chamber and Visitors Bureau. "It's got a lot of wonderful things down there." 
And it's this square that especially attracts people during the holidays when the city turns into a Christmas wonderland.
The day after Thanksgiving, Dahlonega officially begins festivities for its Old Fashioned Christmas.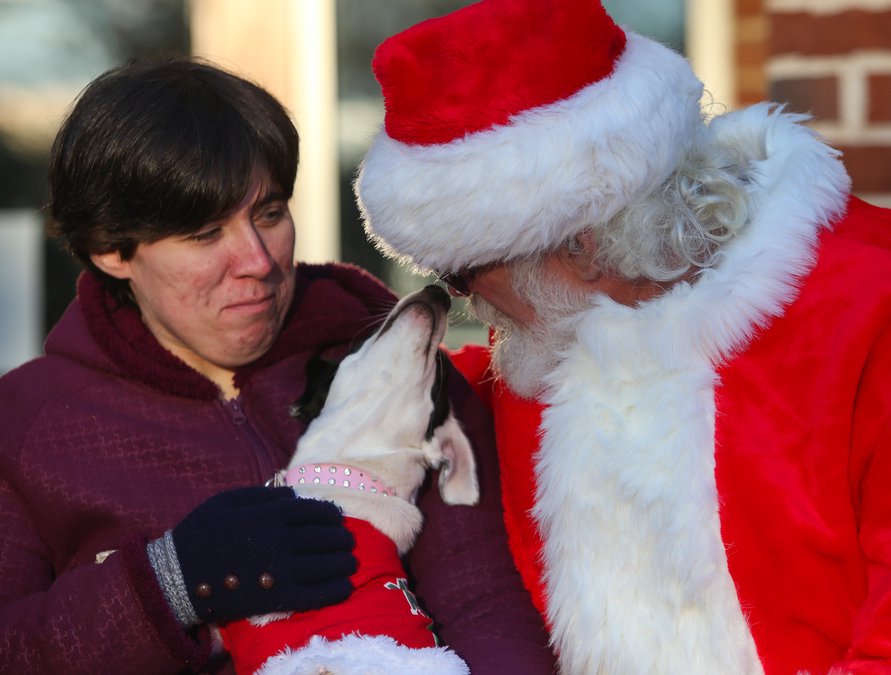 In addition to the lights strung all throughout the square, the city has activities from carriage rides and visits with Santa to live entertainment.

"Really what we're trying to do is have a lot of things for people to do," Harris said. "It's just lots of fun stuff that happens." 
She described the event as a "labor of love."
"The community, the downtown, really has ownership of it," she said. "City staff and volunteers have been working together. There's so much that goes into it." 
Angelia Wilson, the overall chair of Dahlonega's Old Fashioned Christmas, echoed Harris' sentiment, saying the locals use the recurring event to put a spotlight on the small town charms, grandparents especially.
"For all of those folks, depending on their age, I'd say the older people love to bring the grandkids and they love it for themselves," Wilson said. "I have heard that they are very proud of their little small town. So they like to show it off. That's what they like most about it."
Harris said the kids get involved, too, with a children's ornament tree. 
"There's a little table, and kids can make ornaments, and they can hang them themselves or they can have other people hang them a little higher up," she said. "And then they can come visit their tree and can point out their ornaments. So they contribute to the look of our Christmas town."

The tree, which was added to the Old Fashioned Christmas celebration last year through a sponsorship from local jewelry store Studio Jewelers, according to Wilson, is used to benefit local charities and outreach programs, specifically the Community Helping Place, which offers a food pantry and financial assistance.
"We had lots of people say 'Where is the craft tree?' so they know about it," Wilson said. "This is the second year. I hope that that stays. People like giving to local charities, too, so that helps the Community Helping Place, kind of better known as CHP around here."
Outside of helping local charities, Wilson hopes the Old Fashioned Christmas events will continue to help Dahlonega at large, specifically its local businesses.
"I hope it helps our economy here," Wilson said. "I know it helps our B&Bs and hotels and even all the way to Airbnbs because they're all full. The goal here is to bring economic boom and keep our square so everybody can enjoy it. That's the overall goal: to keep the shops busy and I heard the restaurants were full last night after the festivities."
The festivities will continue each weekend until Dec. 31, bringing visitors from far and wide to see the city's "magic." 

"Last year, we ate dinner in a restaurant and enjoyed the lights then walked through the square, and we saw a proposal on the grounds of the Gold Museum amid the twinkling lights," Harris said. "And you're just sitting here going, 'This is just unbelievable.' And that's what Christmas is in Dahlonega — it's just magic."
As for how the event's organizers manage to keep it a refreshing experience each year, Wilson says conveying Dahlonega's small town charm is its priority, but it's open to coordinating new attractions and performances to spice things up.
"We've tried different things," Wilson said. "We've had trolley rides, we've had stuff for the adults, we've got the carriage rides. It's hard to make it fresh, but people love the town because of the smalltown feel. That's what we want to keep."
So whether you take a stroll around the square to see the decorations or visit a local restaurant or shop, Dahlonega will put you in the Christmas spirit.  
"It's like stepping into a Hallmark movie," Nichols said. "It's just beautiful. You feel like you're in a town that it's Christmas every day."
Clerk Kenneth Hucks contributed to this report.