Only a couple of months into her first semester of senior year, Allie Blackburn of North Hall High School woke up in an ambulance with a metal contraption around her head.
"My body was in so much shock," Blackburn said. "I couldn't feel anything, and I could move everything except for my hips."
She doesn't remember the October car accident, just what people have told her.
Blackburn was driving with a friend home from Howard E. Ivester Early College when a vehicle rear-ended them on Interstate 985.
"My friend and I went up in the air and hit an F-150 in front of us and rolled onto the driver's side," Blackburn said. "A bunch of bystanders got me out. I don't remember anything from exit 17 to 20."
Blackburn's pelvis and two of her ribs broke, and she had concussion. She was sent home after spending a little more than 24 hours in the hospital. 
Class of 2020
The Times puts together this special senior recognition each year, highlighting a few standout stories from our local seniors, but this year we've added graduation lists from our local schools in an effort to honor as many graduates as we can. We hope you're inspired by these stories and join us in celebrating the class of 2020. You can view these stories online as well as upcoming photo coverage of this year's graduation ceremonies.
At first, Blackburn said her doctor didn't think surgery was necessary. That changed when her damaged pelvis continued to cause excruciating pain.

She went back to the hospital to have screws placed in her hips.
Throughout her senior year, Blackburn said her mother has been her biggest support. 
"She sat through everything in the hospital and drove me back and forth to every doctor's appointment," she said. 
While recovering, Blackburn took her classes online. She said she finished all of her school work the day before public schools officially closed because of the pandemic.
Before the crash, she worked two jobs, one at a Wendy's in Cleveland and the other at Ingles on Thompson Bridge Road. She also took courses at Early College.
Blackburn said she held two jobs not because she needed the money, but for the stimulation. 
"I just like staying busy," she said. "I like working, and I don't like staying at home."
When she recovered from her injuries, Blackburn said she tried to jump back into her two jobs. Standing for long periods of time at Wendy's proved challenging, so she switched to only working at Ingles.
Now done with school, she has a nearly full-time job as an office worker with the grocery store.
In the fall, she plans to study business management at Lanier Technical College. She dreams of becoming a store manager and later starting her own business. 
"I like dealing with the chaos of different places," Blackburn said. "I can see the stress, and it attracts me. I just like being in the rush."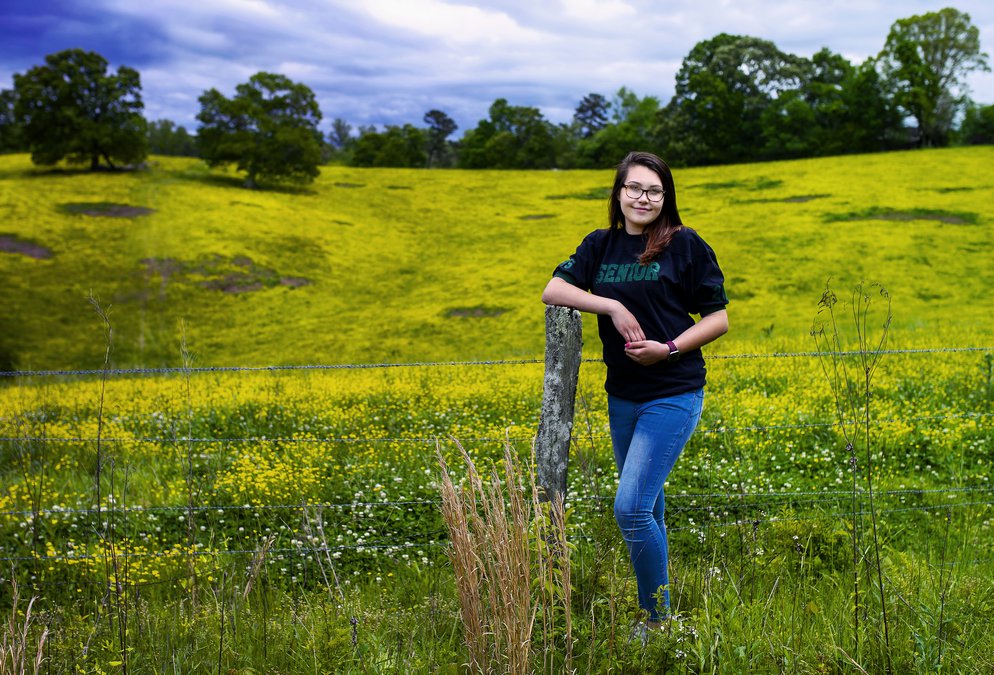 North Hall High School graduating seniors
A tentative list provided by Hall County Schools
Holly Sierra Acrey
Joshua Nathaniel Adams
Kenya Meraris Aguilar
Daisy Cheyenne McCall Alford
Carson Garrett Alverson
Elmer Jovanni Andrades
Mckenzie Ellisa Andrews
Charles Greyson Baker
Caden David Bales
Eric Ryan Yeong Kee Ballard
Joseph Owen Barbour-Hoffman
Gianna Marie Baugh
Carsen Emily Baumgardner
Noah William Beaty
Damien Alexander Bell
Alexandria Beth Blackburn
William Hunter Blalock
Daniela Blancarte
Paulette Mary Brady
Kealey Marie Bridges
Jenna Naomi Brock
Madison Bailey Brock
Tyler Andrew Brooks
Darin Michael Brown
Ansley Rose Brownell
Rachel Carolean Browning
Alexandria Wirth Bryant
Tanner Macray Buffington
Carson Matthew Canada
Seth Cooper Carlton
Coby Zane Carpenter
Debbie Carranza
Raul Castaneda Guardado
Emily Ann Ceculski
Faith Taralyn Chandler
Ethan Mathiah Chapman
Dustin Neal Clark
Hunter Charles Clark
Robert Sawyer Cleveland
David Reece Coker
Michael Fischer Collins
Ellie Margaret Congdon
Neal Patrick Conner
Brock Samuel Cooper
Cailin Jordan Cooper
Caleb Michael Copper
Jesus Coronado
Savannah Dawn Crafton
Carmichael Joe Crawford
Mackenzie Lauren Crisp
William McDuffie Crumpton
Yexon Osmary Cruz-Bonilla
Robert Ian Damon-Pundt
Carlos Eli De La Cruz
Anne Lindsey Deming
Darren James DeVane
Zachary Bryan DeVincentis
Julian Diaz
Jacob Alvin Dickey
Rebecca Grace Dillard
Kody Dwayne Dills
Christian Michael Duetemeyer
Rachel Olivia Duff
Kara Haley Dukes
Maisy Durkin
Jackson David Dyer
Katelyn Leigh Eades
Spencer Wilson Earnest
Ethan Charles Eberenz
Bowie Ward Eisenberg
Jonathan Franklin Elder
Charles Christopher Ellis
Christopher Thomas England
Natalie Antoinette Enzmann
Wilson Pinkney Enzor
Esmeralda Espinoza
Ruby Espinoza
Carly Malise Evans
Joseph Tucker Fair
Madison Elizabeth Farmer
Kenneth Lee Faulkner
Shannon Rebekah Fick
Jacob Taylor Ford
Joshua Brian Fraser
Anna Lucille Frazier
Claire Noelle Frederick
Riley Madison Freeman
Esmeralda Julissa Galvan
Roberth Karim Gaspar
Autumn Louise Gibson
Steven Walker Gilbert
Maci Lauren Gillespie
Isaac Thomas Godfrey
Austin Nicholas Godoy
Logan Greenly Graham
Emilie Emmons Green
Shania McKenna Green
Brennan William Greene
Erica Guadarrama
Luke Wesley Gunter
Matthew Grant Gunter
Ian Edward Haack
Zoey Lee Hall
Brey Alan Harkins
Hannah Leigh Harrison
Madeline Ann Harrison
Grace Renee Hartfield
Bryce Dylan Hartis
Matthew William Hawn
Logan Michael Hawthorne
Makayla Brooke Hayes
Jesse Leno Helton
Alexandria Jordan Henderson
Josey Kayla Hess
Ethan Stephen Hewell
Virginia Willow Hill
Madison Raine Hirt
Mary Alexis Hogsed
Lauren Alexandra Holland
Grace Gailey Hollifield
Micah Jon Holman
Austin Jeffrey Hood
Alora Faith Horne
James Leon Hudson
Samir Estiwar Huete
Barry Kent Hulsey
Kylee Grace Hulsey
Emmaline Grace Ingle
Peyton Physher Wiley James
William Micah Jameson
Samuel Dean Jaume
Chloe Elisabeth Jeffery
Madison Elain Jett
Brianna Nicole Jones
Raquel Maria Kallab
Julia Lyn Kelly
MaKayla Esperanza Kent
Jackson Tanner Kilgore
Hannah Danielle Killingsworth
Jackson David Landis
Olivia Clare Lattanzi
Jackson Samuel Roy Lazenby
Emma Kate Ledford
Ashley Morgan Lee
Ella Randall Lee
Elijah Perry Ligon
Alexander Presley Little
Keylha  Lomas
Duncan James Long
Dalia Lopez
Landon Kenneth Lynn
George William MacDonell
Molly Elizabeth Maney
Dylan Gaines Mann
Saul Marin
Madison Kate Marshall
Jaci Hannah Martin
Milton Ray Martin
Molly Kathryn Martin
Aldo Martinez
Hailey Brooke Martinez
Shirley Martinez
Anna Elizabeth Mattel
Margaret Claire Mayfield
Jolie Ann McCauley
David Christopher McConnell
Derick Foster McConnell
Kathleen Helen McCormick
Samuel Chase Metcalf
Allyssa Candace Miles
Cade Aaron Miller
Caitlyn Taylor Miller
Hope Leann Miller
Anna Ruth Montgomery
Jessica Lynn Moose
Jayla Beth Morris
Dillan Asher Morrison
John Douglas Mundy
Sarah Ashleigh Murphy
Madelyn Catron Nash
Trevor Thomas Navarro
Connor Carleton Nichols
Courtney Cheyenne Nicholson
Michael Thomas Nierodzik
Nathaniel Keith Nixon
John Thomas Orr
Mary Fabiola Orta Enriquez
Vanessa Judith Osegueda
Ella Marie Oxley
Brisa Skye Page
Tennessee William Pass
Caleb Lanier Payne
Hannah Nicole Payne
Judson Walter Payton
Christopher Walker Peck
Catherine Dale Peets
Jose Ruben Perez
Elizabeth Georgia Perguson
Dalton Wayne Pethel
Madison Rose Phillips
Karla Mitchell Piedra
Galilea Thamara Pineda
Jacob Earnhardt Puett
Yaire Nayeli Quintanilla
Isaac Isaias Ramirez
Madison Louann Richards
Jennet Kay Roberts
Zenobia Elizabeth Robertson
Catherine Jane Robinson
Lance Marshall Robinson
Ruby Lee Robinson
Maggie Mahala Rogers
Daniela Roman-Cabral
Jackson Kent Roush
Clara Roydes
Octavia Bree' Rucker
Jose Guadalupe Sanchez
Thomas Dewey Sanders
Junior Armando Santana
Eli Tate Saxton
Grayson Michael Scroggs
Gary Joe Sewell
Noah Cade Shelton
Austin Connor Simonton
Isabella Catherine Sherretts Skinner
Ansley Brooke Smallwood
Bentley Brooke Smallwood
Cody Wesley Smith
Samantha Taylor Smith
Ty Harrington Smith
Connor Liam Sosebee
Tyler Jackson Souder
Mason Kamden South
Elysa Regan Spinks
Kyler James Springer
Kamen Nolan Michael Stephens
Eden Angelika Stinson- Cumby
Thelmon Austin Lee Sullens
Andrew Aswell Surles
Edward Anthony Surles
Ethan Francis Surles
Madison Grace Swan
Lauren Bethany Swanson
Wesley James Michael Tadman
Lauren Madison Tanksley
Joshua Steven Taylor
John Forrester Terry
Gracie Mae Tipton
Kenyon David Tomlin
Anthony Blake Tortorici
Reagan Elizabeth Townley
Jennifer Kristen Truelove
Gabrielle Grace Tuggle
Baylee Ann Turner
Joseph Clay Turner
Joshua Melvin Turner
Heartley Dora Ann Twiggs
Levi Carter Tyner
Kayla Faith Unnold
Jahayra Valdovinos
Oscar Ezequiel Vazquez
Luke Freeman Volle
Tyler Washington Wages
Noah Mitchell Wagner
Caitlen Gail Waldrop-Yetter
Faith Evelyn Walker
Benjamin Landon Wallis
Julianna Leigh Ware
Zachary Glenn Warwick
Taylor Louise Wells
Logan Curtis West
Conley Jarred Whisnant
Adelynn Jane White
Dylan Levi White
Lauren Elizabeth White
Nena Marie White
Jackson Hudgins Wiley
Dovie Eden Williams
Parker Vaughn Williams
Alecxander Carter Wilson
Destiny Hope Wingo
Hannah Paige Wright
Noah James Young
Evan Pierce Zimmerman