The story about a Gainesville native earning the first Congressional Medal of Honor during World War II didn't end with his death in the Philippines Jan. 12, 1942.
Alexander "Sandy Nininger received the honor posthumously because he died attacking a Japanese position, single-handedly throwing grenades, firing a rifle in one hand and a tommy gun in the other. No telling how many Japanese he killed. His body was found among the enemy dead, including an officer. 
His descendants have fought an unending war themselves trying to get his body identified and brought back to the United States.
Nininger spent a part of his childhood in Gainesville, but his family later moved to Florida, where he was an outstanding high school scholar and athlete before earning an appointment to the military academy at West Point.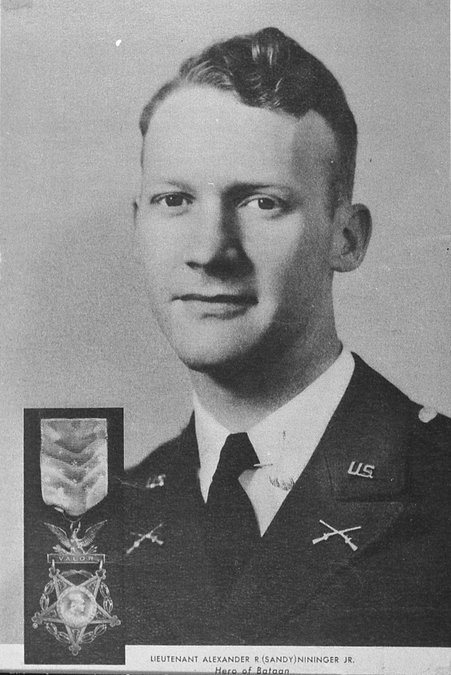 The Fort Lauderdale area held him in such esteem that the Alex (Sandy) Nininger Veterans Nursing Home in Pembroke Pines is named for him. There also is a statue of him along the New River Walk, and a street carries his name. At West Point, there's a Nininger Hall. The Navy also named two ships in his honor.
First Lt. Nininger, age 23, was fighting under the command of Gen. Douglas McArthur. Because the battle was so fierce, Nininger's body apparently was hastily assigned to an unknown soldier's burial site.
All the honors he received after his death weren't the end of the story. Relatives down through the decades have been trying to have his remains returned to the United States.
On the 79th anniversary of Nininger's death Jan. 12 this year, a nephew, John Patterson of Rhode Island, asked the Defense Department to exhume his remains from a grave he believes is that of his Uncle Sandy Nininger. Patterson took up the cause from his mother, who was Nininger's sister. She had followed her father in seeking to have his remains identified and returned.
Patterson was among other families of those buried in unknown graves in the Philippines to sue the Defense Department in 2017 to force DNA testing on those remains. A judge dismissed the suit in 2019.
What Patterson calls "a bureaucratic logjam" frustrates him so that he now has asked that Nininger's name be deleted from all federal properties and including the Florida veterans nursing home. He remains convinced that a grave designated by the military as "Manila X-1130" is that of his uncle. 
Patterson has visited burial grounds for the unknowns in the Philippines. 
Now 84 years old, he for years has asked the military to make more effort to identify the remains while Nininger's descendants are still alive and can properly pay their final respects.
The agencies that deal with such issues don't believe that grave contains Nininger's remains, although at one point they thought they had identified them. That conclusion later was reversed in Washington. 
Patterson said the family is willing to pay the cost of DNA testing, but the agencies won't consent to exhuming the remains. He said the testing would cost only a few thousand dollars, and already the agency has spent an average $865,000 per identification of unknown veterans.
Patterson wrote the Defense Department, "The country has failed him and because of that we ask that the U.S. Government promptly begin the process of removing the name of Lt. Alexander Nininger from all federal facilities and cease trading on his good name and reputation."
Hall County connection
While Nininger didn't live in Gainesville but a few years, his family had strong Hall County ties. His grandfather was Harve Craig, a noted newsman and former editor and owner of the Gainesville Eagle, predecessor of The Times. At one time he also co-owned the Jackson Herald. 
Both Craig sons made names for themselves in the newspaper industry. Craig and his wife and a son, Britt, are buried in Alta Vista Cemetery. Nininger's grandmother was Myrtle Hardy Craig, daughter of Mr. and Mrs. J.M. Hardy of Jefferson.
Nininger's parents were Myrtle Craig and A.R. Nininger. What his parents did while living in Hall County couldn't be determined, but his father at one time was a U.S. marshal in Alabama.
Johnny Vardeman is retired editor of The Times. He can be reached at 2183 Pine Tree Circle NE, Gainesville, GA 30501; 770-532-2326; or johnnyvardeman@gmail.com. His column publishes weekly.